January 2008 Archives
Ok, I've gone and done it. I've heeded the advice of a very well known writer (Hint- Do the initials JL mean anything?!) who has encouraged me to start my own blog. When he first suggested it, I thought it was preposterous. Me?? Why would anyone want to read a blog by me? And the frightening thought occurred to me, suppose I write and no one comes, or listens, or comments?Furthermore, anyone who knows me will think it's insane, given my abhorrence for computers and all things technical/computer related. I can barely figure out how to use my new digital oven let alone a blog! I'm into real life stuff. I'm a people person. I like to talk on the phone. I like letters.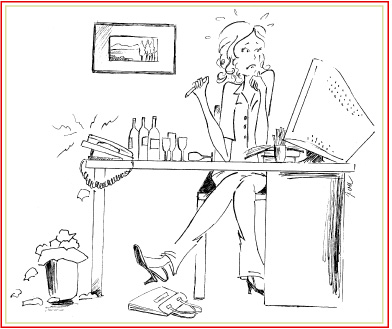 Fast-forward 35 years. Dad's retired now, and my husband Don and I are running the show. 2007 marked our 35th year, and we seem to be becoming a bit of an anomaly. Not too many of us left out there…second-generation hands-on winemaking families. Lots of newbies with lots of $$$ or as seems to be the trend, big time conglomerates swallowing up brands to add to their international portfolio. Just look at the list…Murphy-Goode, Matanzas Creek, Mondavi, and that's just the M's!! Truthfully, the landscape of our industry is changing as fast as my 15-year-old daughter's interest in boys. Goodness, who can keep up?
The way I figure it, that just makes what we do and the wines we produce even more extraordinary. So my ongoing blog will attempt to shed light on life as a female vintner trying to carve out a spot in this ever-changing crazy world of wine.
welcome!
This is a blog about what it's really like to be in the wine industry...so sit back, take a sip and enjoy!

about me

our wines

our winery

our events

contact me

privacy statement




favorite posts
A Lifetime in Wine
Top 10 Traits of the Successful Family Winery
The Dreaded Family Meeting
Board Meeting Jitters
Is the Future of the Winery in Danger?
The Case of the Overweight Bottle
Wine and Dementia
Wanted: Talented (Normal) Individual for Family Owned Winery
A Sea of Wine
The Heroes of Our Industry
monthly archives
subscribe