Top 10 Traits of the Successful Family Winery
I just finished reading a report that predicts 50% of the family owned wineries will change hands in the next 10 years. At first, this seemed a bit shocking, but the more I thought about it, the more I agreed. Family businesses are tough. In fact, current statistics report that something like only 12% of family businesses survive through the second generation. That figure drops even more (to a paltry 3-5%) in the third and subsequent generations.

So, I've decided to put together Wilma's list of Top 10 Traits of the Successful Family Owned Winery - just in case any of you are considering joining the ranks! Here goes:

1. Learn to bite your tongue. In fact, get really comfortable with it, despite the pain.

2. Find your own corner of the cellar. In other words, don't share areas of expertise or responsibility…especially if you're married and intend to stay that way.

3. Whenever possible, make it seem like your brilliant idea was your father's, husband's, wife's, sister's, brother's, cousin's…you get the point.

4. Learn to coerce, beg, borrow, steal…whatever it takes to get your point across.

5. Know when to smile and roll your eyes at just the right time.

6. Understand the real meaning of the numbers, i.e. lots of zeroes after your debt load is NOT good.

7. Have very small families. The more siblings involved, the more likely for conflict. (My Italian friends know this all too well.)

8. Put aside an emergency fund for all the counseling, therapy and consulting advice you'll need to keep harmony in the family.

9. Perfect the art of apologizing.

10. Drink a lot of wine.

Oh, and I forgot one more. Whenever possible, say "yes honey" and then do the exact opposite.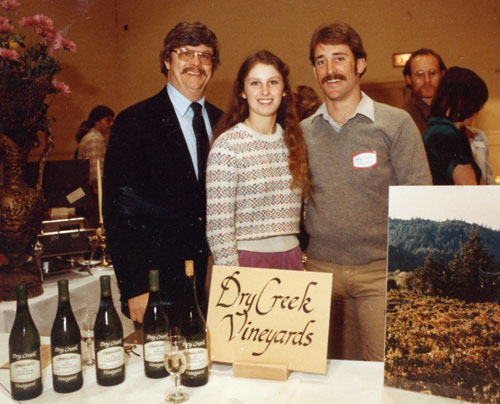 Here we are in 1981 practicing items #1, #5, and #7...still working on #2, #3, and #6!
welcome!
This is a blog about what it's really like to be in the wine industry...so sit back, take a sip and enjoy!

about me

our wines

our winery

our events

contact me

privacy statement




favorite posts
A Lifetime in Wine
Top 10 Traits of the Successful Family Winery
The Dreaded Family Meeting
Board Meeting Jitters
Is the Future of the Winery in Danger?
The Case of the Overweight Bottle
Wine and Dementia
Wanted: Talented (Normal) Individual for Family Owned Winery
A Sea of Wine
The Heroes of Our Industry
monthly archives
subscribe