The Art of Thank You's
I have written thousands, if not tens of thousands of thank you cards over the years -- to wine stores, to restaurants, to distributors, you name it. I just got done with another couple of dozen on my last airplane headed home. It's a lost art form that I've always felt personalizes my interactions with our customers and one that I hope sticks out in the recipient's mind. But does it really?? With all the research conducted in the wine industry, someone should really do a study to see if any more wine is actually sold as a result of a sending a thank you vs omitting this step in the wine sales process. I'd love to know the answer.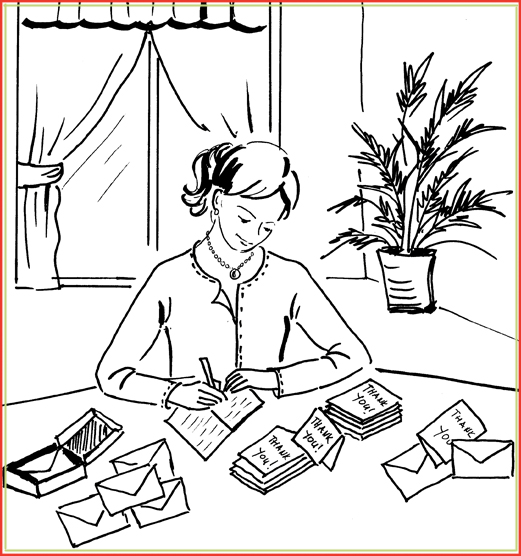 Here's how I'd go about it if I was in charge of the study:
Take a random sampling of accounts visited in a major US market and divide them into three distinct categories. Category A would receive a well written, polite and thoughtful thank you note following a sales call by a winery owner. Category B would receive a somewhat terse and bluntly honest note recounting the actual details of the visit. "Dear Joe, while I enjoyed the bagels in your state, frankly it really ticks me off that you claim you don't have a spot for our Fume Blanc... especially with summer right around the corner." And lastly, send no note or acknowledgement of the visit to the remaining portion of the accounts visited. Repeat this for several times throughout the year or throughout your career, whichever comes first. Then check the sales figures and accounts sold information provided by the distributor in that market to see if there was any impact as a result. In other words, did my efforts make any difference??
Personalization and authenticity in the wine business is becoming a thing of the past. I guess that's why I continue to write these silly little notes, thank you's and the like. But between you and me, I wonder if it makes all that much of a difference anymore.
Hmm... we will see when I get next month's accounts sold information.
welcome!
This is a blog about what it's really like to be in the wine industry...so sit back, take a sip and enjoy!

about me

our wines

our winery

our events

contact me

privacy statement




favorite posts
A Lifetime in Wine
Top 10 Traits of the Successful Family Winery
The Dreaded Family Meeting
Board Meeting Jitters
Is the Future of the Winery in Danger?
The Case of the Overweight Bottle
Wine and Dementia
Wanted: Talented (Normal) Individual for Family Owned Winery
A Sea of Wine
The Heroes of Our Industry
monthly archives
subscribe