A Sea of Wine
Sometimes it feels like we're a tiny little ship bobbing along in a growing sea of wines. The water is choppy and the weather does not appear to be letting up any time soon. Nor are the tides in our favor.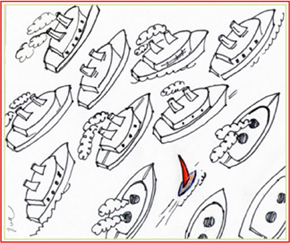 Distributors are tightening up their inventories, restaurants aren't buying, and retailers are sticking with the tried and true labels that sell. (Thankfully we fit this category.) Differentiation is the name of the game, along with a million other details including 90+ scores, a stellar track record, and the right contacts on all sides of the business.

Just last night I came across yet another new brand that made me choke. Dry Stack. Maybe it's my weakening 40+ year old eyes, but to me, when I quickly scanned the wine list at one of my favorite local restaurants, it looked a lot like Dry Creek. I shuddered in disgust. Where do all these new brands keep coming from???

I have written before about the challenges of running a winery today. It is just not easy folks. Of course the recession is making it doubly hard. But even if you remove the current economy, there's a glut of wine out there with eye catching labels and slick brands oozing out of every corner of the globe. When you factor all of this in, I wonder why it is that anyone in their right mind would consider starting a new winery today. That is why I read with great interest about a book called The Complete Idiot's Guide to Starting and Running a Winery. I first heard about it in the blogosphere, and thought it was a joke. But sure enough, a quick perusal of Amazon revealed there really is such a book.

I've already placed my order. I can't wait to hear what pearls of wisdom author Thomas Pellechia has for those of you who want to join our ranks. I'm planning to read it over the holidays…just so I can have a good laugh here and there. I'll report back my findings. And who knows, I just might be inspired to write my own title: The Wilma Way: Clawing Your Way to the Top, One Barrel at a Time
welcome!
This is a blog about what it's really like to be in the wine industry...so sit back, take a sip and enjoy!

about me

our wines

our winery

our events

contact me

privacy statement




favorite posts
A Lifetime in Wine
Top 10 Traits of the Successful Family Winery
The Dreaded Family Meeting
Board Meeting Jitters
Is the Future of the Winery in Danger?
The Case of the Overweight Bottle
Wine and Dementia
Wanted: Talented (Normal) Individual for Family Owned Winery
A Sea of Wine
The Heroes of Our Industry
monthly archives
subscribe