About me . . .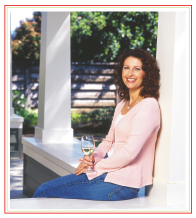 First of all, my name is NOT Wilma. It's Kim Stare Wallace. Wilma is what my husband nicknamed me over 25 years ago and somehow it just stuck. Not the sexiest of names, but one that has made us both chuckle from time to time. (I always thought it should be Candy or Cherry or something…) Back then, life was pretty simple. Fast forward 25 years and, well, things have changed.
Today, I live a pretty complex life. I'm a second generation winery owner, business woman, wife, mom, daughter, sister, boss, confidante and personal chauffeur to my two kids ages 10 and 15. I literally grew up in the Sonoma County wine industry and have spent the last 23 years of my professional life working for our family winery, Dry Creek Vineyard. I've held just about every job imaginable--from the office to the cellar, but figured out long ago that I was a lot better at the marketing side of the business than the winemaking. (Thank goodness for our wines too!) Currently I serve as Vice President working side by side with my husband running the daily operations of our 35 year old business. Our dream is to pass on the business to the third generation without going crazy or getting a divorce in the process. Not an easy feat if you look at the statistics today. But, we're a special team and ours is a unique story that I look forward to sharing with you.
welcome!
This is a blog about what it's really like to be in the wine industry...so sit back, take a sip and enjoy!

about me

our wines

our winery

our events

contact me

privacy statement




favorite posts
A Lifetime in Wine
Top 10 Traits of the Successful Family Winery
The Dreaded Family Meeting
Board Meeting Jitters
Is the Future of the Winery in Danger?
The Case of the Overweight Bottle
Wine and Dementia
Wanted: Talented (Normal) Individual for Family Owned Winery
A Sea of Wine
The Heroes of Our Industry
monthly archives
subscribe