The Heroes of Our Industry
A lot of people think that selling wine is easy. That selling an actual case, (12 bottles) let alone pallets of the stuff, is something anyone should be able to do as long as their product is good and the price is fair.
Nothing could be further from the truth. As long as I've been doing this, (something like 24 years now) I am still amazed at how damn hard it is to actually sell a case of wine. I'm talking wholesale here, not retail. While that's a challenge too, it's a different animal altogether as there's something special that happens when customers come visit the winery. For one thing they are generally happy, on vacation and EXCITED to taste our wines. But the wholesale side is quite another matter. Buyers for restaurants, hotels, and liquor stores are generally a pretty tough crowd despite the fact that buying wine is supposed to be, well…fun!
Before I continue, I must confess an ugly secret. I stink at sales. Thi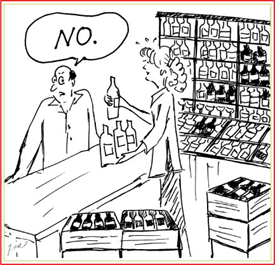 s is not an exaggeration. While I'm a whiz at making small talk, telling "our story", and tasting people on our wines, actually taking an order seems to require some other mysterious skill that I just haven't mastered, despite years of sales training and on the job practice!
And, I'm always humbled when I spend time in the market, which is exactly what I did for most of last week. We conducted what is known in the industry as a "sales blitz". This is essentially an all out attack to see how many customers we can see in a day with our distributor sales rep. Who, in my book, are the unsung heroes of our industry.
Unsung heroes. The people we can all thank for the availability of wine, as we know it today. The people who through sun, rain, sleet or snow make sure your favorite brands are available at your favorite establishments.
It takes a certain kind of person to flourish in this profession. For one thing, they need healthy hamstrings and knees. It's not easy getting in and out of the car 30 times a day. Patience is also key. So are comfy shoes and a positive outlook. (Think perma-smile, especially in the face of hearing "no".) It helps too if they like coffee, since caffeine-induced enthusiasm can be enormously helpful while making the final sales pitch.
Most importantly, these special people need be able to put it all behind them. Because the next day, they'll hit the streets and start the process all over again…and again, and again, and again.
And that, my friends, is how hard it is to sell one case of wine.
welcome!
This is a blog about what it's really like to be in the wine industry...so sit back, take a sip and enjoy!

about me

our wines

our winery

our events

contact me

privacy statement




favorite posts
A Lifetime in Wine
Top 10 Traits of the Successful Family Winery
The Dreaded Family Meeting
Board Meeting Jitters
Is the Future of the Winery in Danger?
The Case of the Overweight Bottle
Wine and Dementia
Wanted: Talented (Normal) Individual for Family Owned Winery
A Sea of Wine
The Heroes of Our Industry
monthly archives
subscribe