A Night to Remember
My hunch is that most Americans need a break right now. Turn off the news, forget the economy and spend a little time with friends and family. The enjoyment of wine and food fits right into this, which is exactly the spirit of our Vintner's Select Wine Club. Started over 20 year ago with just a handful of friends, it has now grown to over 3500 die hard Dry Creek fans who share one thing in common: a love of wines and a desire to share in our family's heritage.

With that in mind, Valentine's Day was the perfect night for 60 wine club members and their guests to join us for an aphrodisiac-inspired feast in the winery's cellar. The menu included such enticing delectables as oysters, lobster, porcini mushrooms, Kobe beef, and Grand Marnier crème brulée.

I don't know about you, but I've never consumed so many foods with these supposed aphrodisiac qualities in one setting. Multiply that by 60, and well, I was a little worried. Happily all went smoothly and the buckets of cold water waiting behind the barrels were not needed. (Just kidding on this last one, but the thought did occur to me!!)

People came from as far away as Florida and Maryland to wine, dine and laugh among new and old friends. One couple, Kym and John Markley, even celebrated their 17th wedding anniversary. All in all, it was a lovely way to spend Cupid's eve and an important reminder of the rejuvenating qualities of laughter and merriment during these uncertain times. Many thanks to all who attended!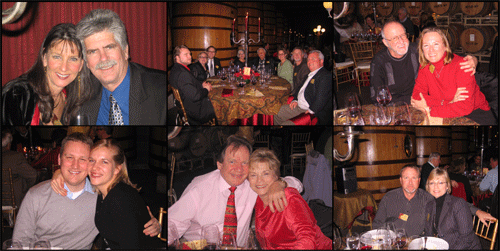 welcome!
This is a blog about what it's really like to be in the wine industry...so sit back, take a sip and enjoy!

about me

our wines

our winery

our events

contact me

privacy statement




favorite posts
A Lifetime in Wine
Top 10 Traits of the Successful Family Winery
The Dreaded Family Meeting
Board Meeting Jitters
Is the Future of the Winery in Danger?
The Case of the Overweight Bottle
Wine and Dementia
Wanted: Talented (Normal) Individual for Family Owned Winery
A Sea of Wine
The Heroes of Our Industry
monthly archives
subscribe