July 2013 Archives
In my experience, success in the wine industry takes a long term view. From growing grapes, to making wine, to all the sales and marketing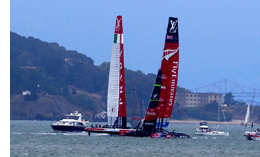 expertise that goes into getting the bottles from the winery to the market, well...it doesn't happen overnight. So it was with much pride that I finally experienced the results of nearly 2 years of effort that went into getting Dry Creek Vineyard involved with the America's Cup. Just last month, we announced our partnership as the official wine for Artemis Racing, Challenger 34th America's Cup. This was a personal mission of mine as the "Official Wine for Sailors" with over 30 years of sailboats on our wine labels and involvement in the sport.
On Sunday, I entertained a group of handpicked winery VIPs at the exclusive digs of the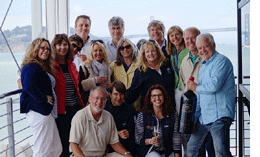 Artemis Racing Hospitality Club at Pier 27 of America's Cup Park in San Francisco. Talk about fun! We learned the history of the world's oldest sporting event, chatted with legendary sailor and team CEO Paul Cayard and watched Team New Zealand kick the pants off of Luna Rossa from Italy. (I'm not sure that's the language I should be using but you get the point!) In between, we were wined and dined and served none other than an array of delicious Dry Creek Vineyard wines.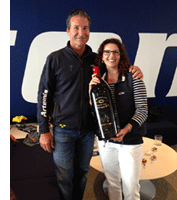 I felt like a mom bursting with pride. While it's just the beginning of the Louis Vuitton Cup, already I'm feeling good about our partnership with this team. They have worked hard to bounce back from the tragic death of one of their sailors and untimely destruction of their boat. Now, their hope is to begin competing next week in the Louis Vuitton Semi Finals. Are they the underdog? You bet. But in many respects they remind me of our family winery - a team dedicated to the absolute integrity of their product, filled with passion and commitment to survive the choppy waters ahead. And like us, you just never know...they might go on to surprise the world!
So you know how we love to sail...right? Well, we are finally
in the midst of our "Wine for Sailors" marketing campaign centered around the start of the 34th America's Cup which, for the first time ever, has come to San Francisco Bay. When I first found out that the world's oldest sporting event would be held in our backyard the summer of 2013, I just knew we had to leverage our longstanding reputation as the official "Wine for Sailors." Over the years, we've supported all kinds of sailing affiliations, from my father's involvement with the Tall Ship Californian and Nautical Heritage Society back in the mid 80s, to his sponsorship of Sonoma State University's first ever sailing team (SSU student Peter Holmberg went on to become an America's Cup skipper and Olympic medalist) to our long standing partnership with US SAILING and our sponsorship of umpteen regattas and sailors around the country. Heck, we even made a wine called "Sailor's Chardonnay" back in 1985.
Flash forward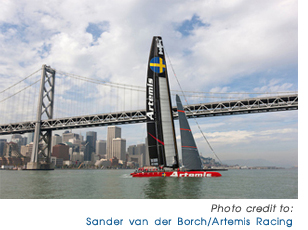 to 2013. First up to celebrate our authentic love of sailing was to design and trademark a spiffy new logo. Secondly, we developed an assortment of display materials, sailing merchandise, and commemorative bottlings to help draw attention to our wines. A lot of wineries are trying to jump on the ship (pun intended!) but there isn't anyone who has featured sailboats on their labels for over 30 years! Lastly, was the formation of a relationship with one of the America's Cup teams. Just last week, we announced our sponsorship of the Challenger of Record-Artemis Racing. CEO Paul Cayard is a Bay Area sailing legend and former America's Cup skipper and Olympic champion, so to be an official supplier of the team is a huge source of pride for us. Besides, access to yummy Dry Creek wines can only help their performance right?!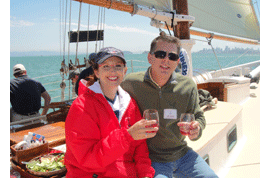 All of these projects have finally come to fruition and I am so proud that Dry Creek Vineyard will have a presence at this illustrious international event. In addition, we'll be providing an assortment of VIP hospitality activities all centered around our favorite sport. So whether you're a wine club member, distributor, or member of the trade, we've got something for you.
welcome!
This is a blog about what it's really like to be in the wine industry...so sit back, take a sip and enjoy!

about me

our wines

our winery

our events

contact me

privacy statement




favorite posts
A Lifetime in Wine
Top 10 Traits of the Successful Family Winery
The Dreaded Family Meeting
Board Meeting Jitters
Is the Future of the Winery in Danger?
The Case of the Overweight Bottle
Wine and Dementia
Wanted: Talented (Normal) Individual for Family Owned Winery
A Sea of Wine
The Heroes of Our Industry
monthly archives
subscribe