August 2013 Archives
Lately, I feel like I've been a part of a Christopher Cross music video. You know the song - "Sailing, takes me away to a place....." I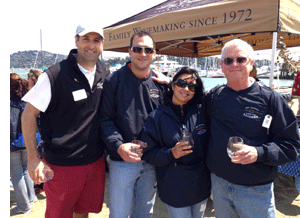 suppose that's not such a bad thing! With the America's Cup on the San Francisco Bay, we've been doing a lot of entertaining.
This past week, we kicked off the first of a series of sailing adventures aboard the 70 foot scow schooner, the Gaslight. Based out of Sausalito, CA, this incredible boat was lovingly built by hand by Captain Billy Martinelli. Our event began with a beach party right on the water near the dock. Guests arrived and were outfitted with Wine for Sailors wind shirts and a souvenir wine glass. Wine and appetizers were served and the Steel Jam band provided the tunes as we all warmed up for our big day on the Bay.
After shoving off,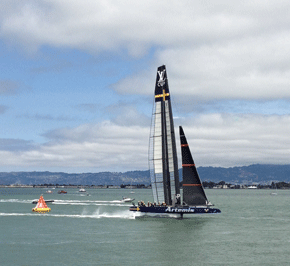 we motored out of the harbor and then hoisted sails and made our way to the starting line for the Louis Vuitton semi-final match between Artemis Racing and Luna Rossa Prada. Let me tell you, it was an adrenaline pumping experience to see these boats in action! They are truly technological marvels. The Artemis Racing AC72 measures 72 feet and has a fixed wing sail that stands 134 feet tall. The sail itself is a work of art - it is longer than the wing of a Boeing 747 and employs similar airplane wing technology in its design. The sailors themselves are outfitted with 40 pounds of gear wearing Kevlar jackets, breathing apparatuses, GPS locators and carrying 50 feet of climbing rope. During racing action, these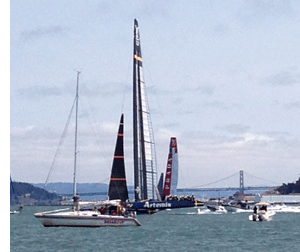 guys are in a virtual sprint, operating at their max heart rate of 190 beats per minute. The sailing world has never seen anything like this.
At the starting line, each of the boats jockeyed for position trying to beat the other to the gun and be in a good position for the first mark. That's when it really got exciting. As the boats headed down wind, they picked up speed like high performance sports cars. Each of them went up on their foil which essentially causes the entire catamaran to come out of the water and "fly" across the top of the Bay. Within seconds, they were traveling at speeds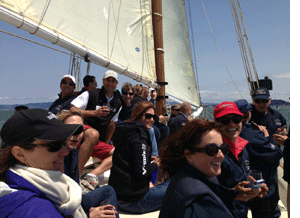 topping 45 mph! For the next 50 minutes, we worked to position ourselves so we could see the live racing action. It was quite thrilling for all of us on board to see these high performance boats being sailed by world class, Olympic caliber sailors.
As our day wound down, we all relaxed aboard the Gaslight swapping stories and sipping delicious Dry Creek Vineyard wines. Everyone left having a new appreciation for the sport of sailing and with memories to last a lifetime. Personally, I can hardly wait for our next sail!
welcome!
This is a blog about what it's really like to be in the wine industry...so sit back, take a sip and enjoy!

about me

our wines

our winery

our events

contact me

privacy statement




favorite posts
A Lifetime in Wine
Top 10 Traits of the Successful Family Winery
The Dreaded Family Meeting
Board Meeting Jitters
Is the Future of the Winery in Danger?
The Case of the Overweight Bottle
Wine and Dementia
Wanted: Talented (Normal) Individual for Family Owned Winery
A Sea of Wine
The Heroes of Our Industry
monthly archives
subscribe