WANTED: Talented (Normal) Individual for Family Owned Winery
I've been knee deep in the interviewing process lately. It's rare that I have the opportunity to hire new talent, and when I do, it's a painstaking and time-consuming process. And, between us, it's one of my least favorite things to do.
Because I don't want to screw up!
Everyone knows that bringing on top-notch employees is vital to one's success. But finding the right person, well-that's another matter. I mean, how are you really supposed to know if someone is right for the job without a trial period??
I've decided that hiring should be more like shopping. If I like something, most stores will let me buy it and take it home to try it out. That way I can see if I am truly satisfied. If not, I simply return the item for a full refund. What a great way to solve the staffing crapshoot! "You're hired, but on one condition. I'll give you a try for 30 days and if at the end of that time, you're driving me nuts, don't do as you said you would, or you have some annoying or disgusting workplace habit, I'll return you for a full refund." Better yet, I'll take home a NEW and IMPROVED model with an extended warranty period!
This would sure solve a lot of things. Like the time we hired a receptionist, who was so crabby, I swear I overheard her answer the phone, "Good morning, Dry Creek Vineyard. What the hell do you want?" Or the marketing assistant who refused to work weekends and was morally opposed to the business of turning grapes into wine. (It just never occurred to me to ask her if she approved of my line of work.)
Yep, we've sure run the hiring gamut over the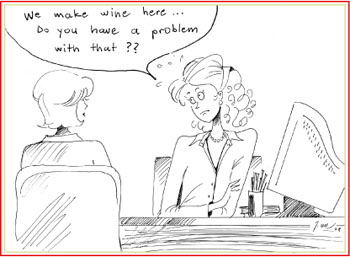 years. From uppity winemakers to finicky office workers to moody hospitality staff. But thankfully we have some wonderful longtime employees who are part of the family.
And for them I'm supremely grateful.
But all this searching for the perfect candidate made me realize there are some secrets the successful candidate needs to know. These are the things that DON'T come out in the interview process, but trust me, they are important to know!
WILMA'S ADVICE FOR WORKING AT A FAMILY OWNED WINERY
| | | |
| --- | --- | --- |
| | | |
| 1. | | Make sure the family is small. Husband and wife teams are tricky, parents and siblings complicate things, throw in some cousins, nieces, nephews…well that's just a complete nightmare waiting to happen. (Don't even ask about ex's.) |
| | | |
| 2. | | Never criticize the owner's wines. Sure, it's fine to recommend less oak or more acid. But remember that wines are like the offspring. No matter how obnoxious your kids, they're still your little angels who can do no wrong. |
| | | |
| 3. | | Get used to management changing their minds. It's no different than at home. How many times have you asked your family if they want to have Chinese or Pizza, only to hear (after the bill is paid), that what they really wanted was Mexican? |
| | | |
| 4. | | Recognize that if the boss is in a bad mood, it probably has nothing to do with you. Family business owners are just grown up needy children. The only difference from other adults is that they tend to work through their "issues" in the cellar instead of in a counselor's office. |
| | | |
Anyone out there feel up for the job? I'm hiring!

welcome!
This is a blog about what it's really like to be in the wine industry...so sit back, take a sip and enjoy!

about me

our wines

our winery

our events

contact me

privacy statement




favorite posts
A Lifetime in Wine
Top 10 Traits of the Successful Family Winery
The Dreaded Family Meeting
Board Meeting Jitters
Is the Future of the Winery in Danger?
The Case of the Overweight Bottle
Wine and Dementia
Wanted: Talented (Normal) Individual for Family Owned Winery
A Sea of Wine
The Heroes of Our Industry
monthly archives
subscribe