March 2012 Archives
Working in the wine industry can be a pretty good gig sometimes. I have been fortunate to dine at quite a few amazing restaurants. I've met some wonderful people. I've traveled to beautiful cities. However, what really gets me thinking (and nostalgic) is when we taste through library wines.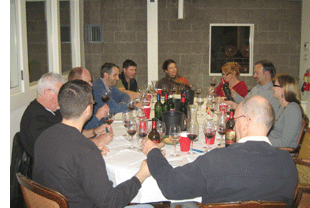 I mean, really, what job allows you to spend from 3 pm to the end of the day on a rainy Wednesday drinking 25 year old Zinfandel while nibbling on charcuterie, all in the name of "research"? Not many is the answer.
For the past several weeks, our staff has put together a library tasting of assorted Dry Creek Vineyard wines. The purpose is twofold. First, we want to evaluate the wines and see how they taste and if they are over the hill. Secondly, we want to find out if we feel comfortable offering some of these wines in a re-release to our customers. So far, the tastings have been fascinating. I won't bore you with all of my notes but I thought it would be fun to at least share a few thoughts.
1981 Zinfandel - Love the nose! The wine is still extremely appealing with a creamy tart texture and cherry laced nuances. There's a hint of rosemary and herbs on the nose and the palate. There's lots of acidity which probably had something to do with how well this wine has aged. Great color. For a 31-year old Zinfandel this wine is showing really well.
1986 Zinfandel - Awesome color with a big, earthy and gutsy nose. Really nice tannins that are smooth and supple. The fruit leans toward boysenberry and cherry with some earthy tones. There are some leather components (not off putting) and is overall a wine that is supple and rich on the palate. I think this is a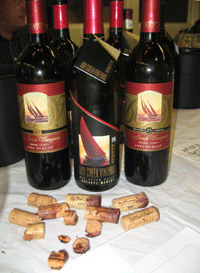 wine we could certainly re-release.
1994 Petite Sirah - what a knockout wine! This baby is still young and none of us could believe it. The fruit is intense and layered with wonderful spice and pepper nuances. There's an excellent plum and cherry berry fruit quality that is very appealing. Amazing.
1991 Estate Bullock House Merlot - Fantastic! Still so youthful and rich with ripe cherry fruit. There's no weediness or herbaceousness. The tannins are smooth and supple and the wine is wonderfully balanced. A 21-year old Merlot that has plenty left in the tank. (Note: This estate vineyard is directly across the street from the winery and has since been replanted to Malbec and Cabernet Franc.)
Of course, these were just a few of the wines that really impressed.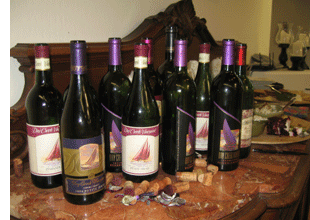 There were, of course, some wines that were not showing well. We lamented for a while on the 1986 vintage which, for us, was less than stellar. I can't really recommend a DCV wine from that vintage. Overall, however, I was so happy and impressed with how our wines were holding up. Tasting these wines and looking at the labels, I reflected on all the memories - it's definitely a trip down memory lane. From my days on the bottling line as a kid to my first sales trip in San Francisco until now, there's been a lot of mileage put on this old car. But, what's great is that we keep improving. Honestly, our wines have never been better. Now that, I think, is something to toast about!
welcome!
This is a blog about what it's really like to be in the wine industry...so sit back, take a sip and enjoy!

about me

our wines

our winery

our events

contact me

privacy statement




favorite posts
A Lifetime in Wine
Top 10 Traits of the Successful Family Winery
The Dreaded Family Meeting
Board Meeting Jitters
Is the Future of the Winery in Danger?
The Case of the Overweight Bottle
Wine and Dementia
Wanted: Talented (Normal) Individual for Family Owned Winery
A Sea of Wine
The Heroes of Our Industry
monthly archives
subscribe