May 2012 Archives
Looking back at my last few posts, I realized that my tone was a tad in the dumps. It's easy to get frustrated in this business. Yet, at the same time, I can't overlook the wonderful aspects of the wine industry and all the lasting friendships I've created. So, rather than focus on what's bad, I want to share with you what's really great about our industry. I thought maybe a top 10 list would be appropriate.
| | | |
| --- | --- | --- |
| 10 | | The weather. This one seems silly but really, the weather in wine country is as good as it gets. All year long, we enjoy a wonderfully temperate climate. I think that's why our grapes are so happy! |
| 9 | | The perks. Yes, the perks are good. It's pretty neat to have a chef send something special to our table or to have a hotel partner comp us a room. |
| 8 | | The Food. Amazing. Incredible. World-class. We are fortunate to be in an industry that is so closely connected to the culinary world. And the food we are blessed to try is nothing short of remarkable. |
| 7 | | The Travel. As much as I might complain about this one, the travel can be fun. I love New York. Seeing new places and experiencing a different city is really quite fun. |
| 6 | | The Education. I thought about this and what's remarkable about our industry is that we never stop learning. Someone is always showing me something new and different. |
| 5 | | The Romance. Our industry exudes a sense of romance about it. Just a few weekends ago, we witnessed a marriage proposal in our picnic grounds. Wine country is a romantic place to be. |
| 4 | | The Satisfaction. I love the sense of completion of projects and having things become successful. There's a lot of satisfaction and pride when I sell one of our wines to a restaurant or retailer. It's a sales "high" of sorts. |
| 3 | | The Lifestyle. This is easy to talk about. You take much of what I mentioned above and then add your family, close friends and small town charm to the mix and well - that cocktail is pretty darn great! |
| 2 | | The Product. Maybe this should be #1. No matter though. At the end of the day, wine is what we do and I just love our wines. I am so fortunate to have such a great portfolio of wines. |
| 1 | | The PEOPLE! Isn't this what life is all about? The people in our industry are incredible. There are so many talented, passionate individuals - not just selling or marketing our wines but in the wine industry as a whole. And in the scope of the business world, we're a relatively small tribe so the camaraderie we all share is special. After more than 25 years in the business, some of my best friends are from the wine industry. |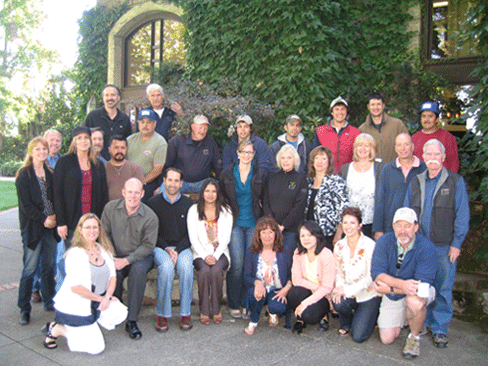 So there you have it. That's my list. What's yours? Feel free to chime in. I'd love to hear from you.
I have some pretty good excuses why I haven't written in a while. Hmm, let's see...
No time? Too tired? More pressing projects? You get the picture. My plate is very full these days. But I love my new role and feel invigorated despite the long hours and constant frustrations of the wine business.
I know what you're thinking..."yea right, what frustrations?" Isn't it all about the bucolic, wine country lifestyle? On the outside, it might look like that. But the truth is despite the many wonderful aspects of the wine industry, it can be frustrating as hell.
Let me give you some examples. I just returned from Los Angeles where I participated in the Sonoma County Vintners "Sonoma in the City" events. These are a series of trade and consumer tastings intended to showcase the many wonderful wines of Sonoma County. As the flagship winery of the Dry Creek Valley, it was important for us to be there.
It felt a bit like Groundhog Day as I looked around the room and recognized vintners who have been doing this for just as long as me: Julie Pedroncelli, Michael Deloach, Joy Sterling, to name a few. We are the hard working descendents of pioneering family owned wineries that helped shape the California wine industry. So here's where the frustrating part comes in. I can't tell you how many people came up to my tasting table and said they had never heard of Dry Creek Vineyard. Furthermore, they didn't know where we are located. Ahem, doesn't the name Dry Creek give any clue? With SO MANY new wineries in the county today, (let alone the world) it's easy to get lost in the shuffle if you aren't careful. And apparently, it doesn't much matter that we've been at it for 40 years.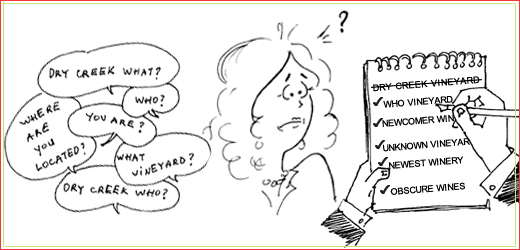 Twenty four hours later the converse occurred. Fussy wine buyers are fixated on the obscure and unknown. Suddenly, it can work against you if your winery actually has a reputation and a loyal brand following. I experienced this first hand as I made a presentation to a very important buyer for a series of popular LA restaurants. While he was very impressed with the quality of our wines, the fact that our wines are distributed nationally, have decades of successful vintages under their belt, and a trusted brand reputation, in his mind's eye--these are a deterrent for adding our wines to his wine list. We are simply too well known.
Go figure. One minute no one has heard of us, the next we're too popular. Talk about frustrating!
Happily I returned to my office with a big surprise on my desk. A 2 page spread in Wine Spectator featuring our Fume Blanc and Heritage Zinfandel in their "Best of the West Under $25" story.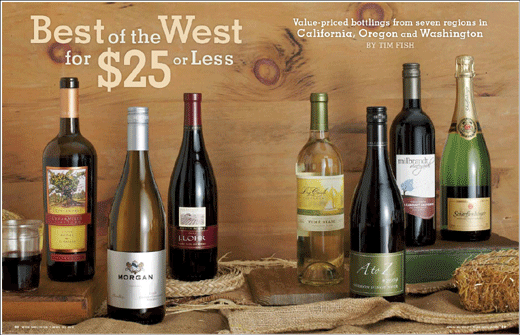 Oh yea baby, that sure feels good!
"Dry Who" my arse...
welcome!
This is a blog about what it's really like to be in the wine industry...so sit back, take a sip and enjoy!

about me

our wines

our winery

our events

contact me

privacy statement




favorite posts
A Lifetime in Wine
Top 10 Traits of the Successful Family Winery
The Dreaded Family Meeting
Board Meeting Jitters
Is the Future of the Winery in Danger?
The Case of the Overweight Bottle
Wine and Dementia
Wanted: Talented (Normal) Individual for Family Owned Winery
A Sea of Wine
The Heroes of Our Industry
monthly archives
subscribe