June 2012 Archives
We are finally installing some much needed shade sails over our secret garden area. This is the space directly in front of the winery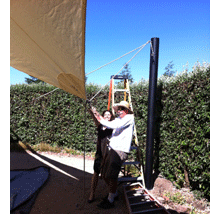 that has gone largely unused over the years, yet we feel will make a great outdoor seating/lounge area.
I looked into a variety of ways to transform the area. As with most decisions, it all comes down to money. While the shade sails weren't inexpensive, they seemed to be a good solution that also subtly ties into our connection with sailing. So, I suppose it's the closest thing we'll ever get to hoisting the sails in Dry Creek Valley!
The next step is setting up outdoor furniture and creating an attractive and inviting space for wine club members and guests to enjoy our wines. I envision using
this space for small groups, events, and quite possibly down the road...weddings. Yep. I said it - the "W" word.
While decades have gone by without a wedding here (my sister's was the last and that was 14 years ago) I am definitely seeing growth and demand for beautiful wine country wedding venues. And, I must admit, I'm intrigued. Not because I fancy the notion of more work or more hassles (have you ever dealt with the mother of the bride? Ugh!), but leveraging our beautiful setting and unique location, along with our amazingly high quality wines, might just be one more way to weather the storm of such a competitive and challenging industry.
Talk about moldy oldies! We finally finished tasting through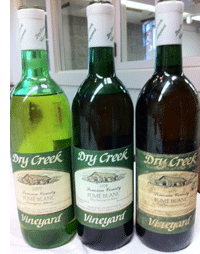 our older library wines in search of some gems to honor our 40th anniversary. Our plan is to re-release these liquid time capsules in August as part of our "Hey Look, We're Turning 40!" celebration. This could also be called... "40 and Fabulous After All These Years." Or, more accurately... "My God, We've Survived Four Decades of Ups and Downs in the California Wine Industry."
We've even picked one wine from each decade--the 70s, 80s, 90s, and 2000s that best showcases the longevity and ageability of our wines. A few lucky people will have an opportunity to stroll down memory lane as they taste through these selections, hopefully appreciating all the blood, sweat and tears that went into their production.
A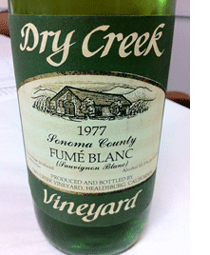 true stand out wine remains the 1977 Fume Blanc. If any of you happen to have a bottle in your cellar, consider yourself lucky, as this 35-year-old Sauvignon Blanc is truly remarkable. With rich pungent aromas of lemon peel, green olive and Italian deli spices such as oregano, basil, and thyme, I can honestly say this is one of our best wines ever. The texture is rich and oily, the color is a beautiful golden hue, and there's a vibrant acidity laced throughout. Some years ago, we shared this wine with a group of writers who went gaga over it. I had a similar reaction yesterday.
I'm always amazed at the new things I learn and see even though I've been in the industry my whole life. For example, in opening up the 1977 Cabernet Sauvignon, we were greeted with a thick gooey cap just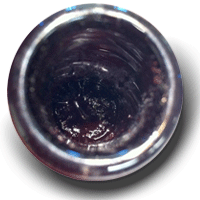 below the cork. Neither our winemaker nor I had ever experienced this before. We delicately removed it from the neck of the bottle and found the wine below to be in remarkably good shape. It seemed to be a combination of tartaric acid and wine sludge, not the most appealing sight (kind of like a thick blob of black goo) but harmless no less.
We'll soon begin videotaping some industry veterans. Folks like Joe Rochioli and Dan Berger will share their thoughts on the impact Dry Creek Vineyard has had on the industry (remember, we were the first to plant grapes and start a winery here after Prohibition!) and how they first became acquainted with our winery. My hope is that these memories will tell a lively tale of our early days along with fun anecdotes over the course of our four decades of existence.
It's a story worth telling...and one that we very much want the world to hear.
welcome!
This is a blog about what it's really like to be in the wine industry...so sit back, take a sip and enjoy!

about me

our wines

our winery

our events

contact me

privacy statement




favorite posts
A Lifetime in Wine
Top 10 Traits of the Successful Family Winery
The Dreaded Family Meeting
Board Meeting Jitters
Is the Future of the Winery in Danger?
The Case of the Overweight Bottle
Wine and Dementia
Wanted: Talented (Normal) Individual for Family Owned Winery
A Sea of Wine
The Heroes of Our Industry
monthly archives
subscribe