Hoisting the Sails
We are finally installing some much needed shade sails over our secret garden area. This is the space directly in front of the winery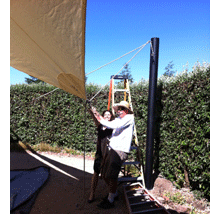 that has gone largely unused over the years, yet we feel will make a great outdoor seating/lounge area.
I looked into a variety of ways to transform the area. As with most decisions, it all comes down to money. While the shade sails weren't inexpensive, they seemed to be a good solution that also subtly ties into our connection with sailing. So, I suppose it's the closest thing we'll ever get to hoisting the sails in Dry Creek Valley!
The next step is setting up outdoor furniture and creating an attractive and inviting space for wine club members and guests to enjoy our wines. I envision using
this space for small groups, events, and quite possibly down the road...weddings. Yep. I said it - the "W" word.
While decades have gone by without a wedding here (my sister's was the last and that was 14 years ago) I am definitely seeing growth and demand for beautiful wine country wedding venues. And, I must admit, I'm intrigued. Not because I fancy the notion of more work or more hassles (have you ever dealt with the mother of the bride? Ugh!), but leveraging our beautiful setting and unique location, along with our amazingly high quality wines, might just be one more way to weather the storm of such a competitive and challenging industry.
welcome!
This is a blog about what it's really like to be in the wine industry...so sit back, take a sip and enjoy!

about me

our wines

our winery

our events

contact me

privacy statement




favorite posts
A Lifetime in Wine
Top 10 Traits of the Successful Family Winery
The Dreaded Family Meeting
Board Meeting Jitters
Is the Future of the Winery in Danger?
The Case of the Overweight Bottle
Wine and Dementia
Wanted: Talented (Normal) Individual for Family Owned Winery
A Sea of Wine
The Heroes of Our Industry
monthly archives
subscribe