Summertime in a Bottle
Ah, summertime. Perhaps more than any other time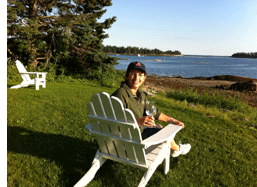 of year, the summer months are ones I look forward to the most. Warm breezes, backyard BBQ's and lots of friends and family gatherings. And of course, the most important part - summertime means vacation time!
Most summers, I travel back to the East Coast to experience my roots, see lots of family and catch up with old friends. Since I was a little girl, we've taken family sailing trips in Maine. Just a couple of years ago, Dad bought a small but charming cottage on one of the many pristine lakes there. Heading there each year brings back great memories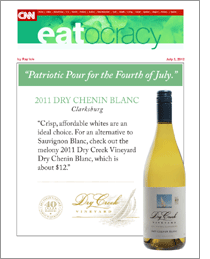 and mostly importantly, allows me to recharge my batteries - away from the winery, my email, iPhone, and everything else for that matter. Thankfully, cell phones don't work so great in there!
With the 4th of July week here, I'm glad to be back in Maine to celebrate this most patriotic of American holidays. There's nothing quite like a July 4th here - if Mayberry really existed, surely this would be the place. Small town parades with families everywhere, eating pie and setting off their own brand of firework displays are the norm. It is so very charming. Me? I think about what I'm going to drink of course! Just this week, we received some wonderful press from our old friend Ray Isle on our classic 2011 Dry Chenin Blanc. I think I agree with Ray when he says - "Pour something from the U.S., it's the 4th of July after all!"
Happy 4th everyone!
welcome!
This is a blog about what it's really like to be in the wine industry...so sit back, take a sip and enjoy!

about me

our wines

our winery

our events

contact me

privacy statement




favorite posts
A Lifetime in Wine
Top 10 Traits of the Successful Family Winery
The Dreaded Family Meeting
Board Meeting Jitters
Is the Future of the Winery in Danger?
The Case of the Overweight Bottle
Wine and Dementia
Wanted: Talented (Normal) Individual for Family Owned Winery
A Sea of Wine
The Heroes of Our Industry
monthly archives
subscribe