Burgers, BBQ and Wine
As the end of my vacation draws near, I am reflecting on what a wonderful trip it has been. Over the past couple of weeks I have spent my time seeing family, relaxing, reading, eating and - you guessed it - sailing. It has been such a welcome break from the daily chaos of simultaneously running a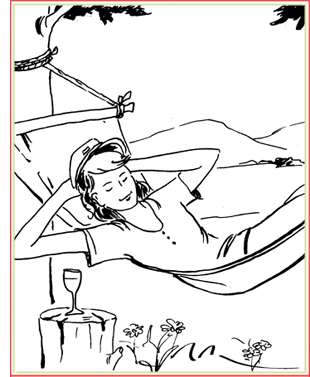 business and a family, and a much-needed one at that! Of course, my brain hasn't completely turned away from the winery. There is just so much going on right now with our new consumer tasting experiences, bottling in full swing before harvest starts, and the anniversary of the date that we received our use permit 40 years ago coming up. With all of these exciting things going on, it has been a tad difficult to keep my mind completely focused on relaxing.
However, when our 2009 Heritage Zinfandel was named one of the "Best Burger Wines" out of a 30-bottle taste test, I immediately snapped back into vacation mode. Why? Because one of the best parts of a summer vacation is eating outside and enjoying a great barbequed meal with family and friends. I love burgers, but I have to confess that my favorite BBQ dinner with our Heritage Zinfandel is my dad's famous 'Zinful Flank Steak'. With only a few days left in my vacation, I am going to make sure this recipe hits the grill before I hit the road!
Dave's Zinful Flank Steak

For steak marinade:

2lbs

1/4 cup

3/4 cup

3 cloves

2 tsp

To taste

flank steak

olive oil

balsamic vinegar

garlic, chopped

dried Italian herbs

salt & pepper

click to print recipe card

For Zinfandel sauce:

1 bottle

1

2

1 clove

Dry Creek Vineyard Zinfandel

onion, minced

shallots, minced

garlic, minced
Method:
Steak marinade: Combine ingredients and marinate flank steak overnight. It is important to first pierce the steak all over with a fork so that the marinade can better penetrate and tenderize the meat.
Zinfandel sauce: Combine ingredients in non-reactive saucepan, bring to a boil, and simmer to reduce by one-half. Remove from heat and cool. Remove steak from marinade. Add reserved marinade to sauce mixture and puree in the food processor. Grill, broil or pan fry steak over high heat; cook to medium rare. Cut thin slices across the grain. Serve with heated sauce.
Serves 6
welcome!
This is a blog about what it's really like to be in the wine industry...so sit back, take a sip and enjoy!

about me

our wines

our winery

our events

contact me

privacy statement




favorite posts
A Lifetime in Wine
Top 10 Traits of the Successful Family Winery
The Dreaded Family Meeting
Board Meeting Jitters
Is the Future of the Winery in Danger?
The Case of the Overweight Bottle
Wine and Dementia
Wanted: Talented (Normal) Individual for Family Owned Winery
A Sea of Wine
The Heroes of Our Industry
monthly archives
subscribe