Discovering the Bliss Factor
One of the unpleasant things about making wines that go so well with oysters is that every now and again I have to pretend to like the slimy little bi-valves. I have done quite well over the years, managing to avoid ingesting these creatures of the sea, thanks to a host of polite excuses which range from "shellfish doesn't agree with me." To, "I'm sorry but I'm on medication that interferes with digestion of oysters."
You guessed it: the truth is I don't like oysters. In fact, I detest them and manage to avoid eating them at all costs, despite producing what is generally regarded as some of the world's "Best Oyster" wines.
I have managed to keep my secret for quite some time. But just recently, my hidden truth was put to the test, all in the name of selling wine. And, remarkably...I survived. Plus, it was fun!
One of my favorite distributors, Pine State Beverage of Maine, set up an Oyster and Blancs tasting at a waterfront restaurant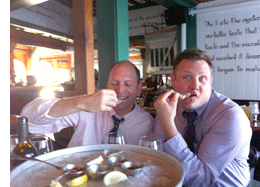 in Boothbay Harbor called Mine Oyster. It had been a year since I had been in the market and I was looking forward to catching up with the reps who sell our wines. Until I heard it involved oysters.
Oh my, what to do. Here I was, in the middle of my vacation, squeezing in some time for business. I'd be willing to do just about anything to help sell our wines, but oysters...really??
As I entered the restaurant, I could tell I was in trouble. Intoxicating smells of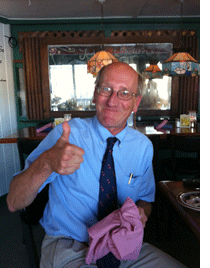 saltwater and shellfish greeted me. Boisterous fisherman sat at the bar. And a table full of eager wine sales reps surrounded me with high fives and hugs all around. Then, the defining moment came. I was handed the menu and asked to order the selection of oysters that we would taste with my wines. Ugh. No amount of wincing or squirming could get me out of this one! I steeled myself for the moment and started ordering recklessly. Glidden Points.... Pemiquids... Oysters Rockefeller... Oysters Parmesan...Oysters this and oysters that.
I had no idea what I was doing, but I needed to save face. These folks were depending on me!
Slowly we slurped and sipped our way through the assortment. Round the table we went, each person commenting on which was their favorite wine for the oyster of choice...was it Dry Chenin Blanc, the Fume Blanc or our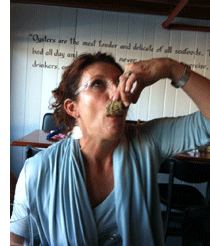 Sauvignon Blanc? Unanimously the Chenin Blanc was the group's favorite. It was uncanny really, as this is the same wine what won the 2012 Pacific Coast Oyster Competition as one of the "Top 10 Wines" to go with oysters. And, after a few gasps and quick gulps I slowly began to comprehend.
I could taste the sea. I could sense the ocean. My mind started to wander...the crispness of the wine danced across my palate running head on into the briney salinity of the oyster...ahhh, the "bliss factor." Yes, I could finally understand what all the fuss was about.
While oysters may never become my seafood of choice, I am now one of the enlightened ones, thanks to the great state of Maine and the wonderful folks of Pine State Beverage.
Thanks guys and see 'ya next year!
welcome!
This is a blog about what it's really like to be in the wine industry...so sit back, take a sip and enjoy!

about me

our wines

our winery

our events

contact me

privacy statement




favorite posts
A Lifetime in Wine
Top 10 Traits of the Successful Family Winery
The Dreaded Family Meeting
Board Meeting Jitters
Is the Future of the Winery in Danger?
The Case of the Overweight Bottle
Wine and Dementia
Wanted: Talented (Normal) Individual for Family Owned Winery
A Sea of Wine
The Heroes of Our Industry
monthly archives
subscribe