Spring in the Dry Creek Valley
I can honestly think of no better place on earth right at the moment than being here in the Dry Creek Valley. The vineyards have begun their seasonal growing cycle and new green buds have leaped toward Mother Nature's warmth. The hillsides are aglow with emerald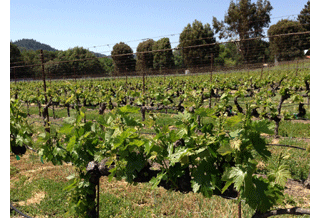 green from winter rains and warm temperatures have greeted us early this year bringing out an abundance of wild flowers. Sometimes it takes getting away to truly appreciate where you live.
This past week, I was traveling back East for business. The weather was still a tad cold and gray. My family in the northeast has experienced an especially difficult winter with record snowfalls. I'm glad to have missed all that excitement, but heading "home" always reminds me of what a crazy, busy bustle other parts of our country are. I think sometimes I take for granted living where we live. It's really a cornucopia of life's best things - wine, food, agriculture, art and people. Of course, my roots are from the East Coast, but let me tell you, getting on that plane to come home to California never felt so good!
welcome!
This is a blog about what it's really like to be in the wine industry...so sit back, take a sip and enjoy!

about me

our wines

our winery

our events

contact me

privacy statement




favorite posts
A Lifetime in Wine
Top 10 Traits of the Successful Family Winery
The Dreaded Family Meeting
Board Meeting Jitters
Is the Future of the Winery in Danger?
The Case of the Overweight Bottle
Wine and Dementia
Wanted: Talented (Normal) Individual for Family Owned Winery
A Sea of Wine
The Heroes of Our Industry
monthly archives
subscribe