August 2011 Archives
Sometimes I really can't think of what to write. My days are jam-packed at the winery and then at the end of the day, I move into my "hey Mom, look at this!" mode. Combining a demanding wine business and all of its ongoing challenges with being a good mother is well... not for the faint of heart. It requires enormous amounts of energy, lack of sleep and patience beyond your wildest dreams. I've also found that generous doses of wine can provide some assistance. Turn up your sound.....
Don't get me wrong. I do not drink excessively. Nor, do I use wine (alcohol) to sooth my troubled soul, the first sign of problem drinking. However, I do find that sipping very slowly on a glass of wine (yes, it helps when it's free for me!) while sitting outside watching my son perform his latest trick on the trampoline or bicycle is a nice way to transition from the "crisis du jour" at Dry Creek Vineyard to a more peaceful existence in my back yard.
I especially love this time of year. The "Dog Days of Summer" as they call 'em. The kids are still out of school and the structured pace of the Fall selling season with its yearend business travel, emphasis on OND sales performance (translation: October, November, and December had better be strong!) and the frenetic and unpredictable nature of Harvest nearly upon us, is still a blissful few weeks off. Normally, I'd be in Maine, visiting relatives and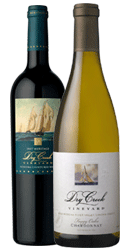 chilling out. This year, I had to cancel my plans due to work related responsibilities, and let me tell you, I am feeling a little bit sorry for myself!
So, for the rest of you "End of Summer" vacationers, I thought you might like to know about a special promotion we're running. We call it our "Back to School" special. It's a 2 bottle offering of two of our favorite but lesser known wines, our 2008 Foggy Oaks Vineyard Chardonnay, and 2007 Meritage. They are both perfectly delicious and great accompaniments for this time of year. Save 25% with shipping included (or better still, join our Wine Club and Save 35%).
And, they just might make the end of day transition in your family a happier time too!
I like dirt. For as long as I have been in the wine industry, the concept of soil, sun and geography (that pesky word terroir) has fascinated me. And really, for any wine geeky person like me, why wouldn't it? How amazing is it that the very same grapes, grown right next to each other, can literally taste different! I've experienced that first hand, walking through vineyards during harvest and tasting different blocks of Zinfandel grapes. It is quite remarkable.
One of the (many) cool things about working at a family owned winery is that decisions can be made with an eye toward the future and without all that corporate winery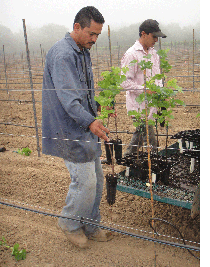 mumbo jumbo. A prime example of this is what is going on at our iconic DCV3 estate vineyard. Planted by David Stare in 1972, this was the first vineyard planted to Sauvignon Blanc in the Dry Creek Valley. Not only is this vineyard historically relevant for our winegrowing region, we also see it as our crown jewel in our Sauvignon Blanc program. Like any vineyard, eventually it needed to be replanted. First, we let the ground lay follow for almost 5 years. Not an easy decision and not exactly profitable but completely necessary to allow the soil to naturally regenerate itself. Then, rather than plant vines that will maximize yields (and thereby ROI) the family took a decidedly different track. They planted 3 different selections of Sauvignon Blanc - Sauvignon Musqué, Sauvignon Gris and Sauvignon Blanc clone #378. Is this the most economically profitable way of doing things? No. Is this really cool and going to give us the ability to work with small lots of interesting wines that we could potentially bottle exclusively for wine club members? Yes. How fun is that?
Another exciting project is the new Zinfandel vineyard planted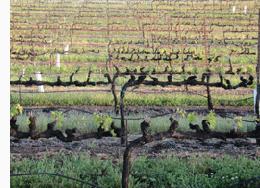 in front of the winery. Three years ago, when this vineyard went in, I think our neighbors thought we were nuts. Who in the world plants a head pruned Zinfandel vineyard these days? Answer: Dry Creek Vineyard. Again, this is not cost effective and produces extremely small yields, but this vineyard is a throwback to a bygone era. It's just about 3.5 acres but it has 4 different clonal selections of Zinfandel all planted on St. George rootstock. This year we will receive our first crop and our winemaking team is so excited they can hardly stand it!
As the years go on and new vintages are released, I am excited about what the future holds. I'm not sure any of us know exactly what we will we get from these newly planted vineyards. But isn't that what makes wine so special? Finding that unexpected gem or new thing that keeps you learning and appreciating all that the wine industry has to offer!
Bill Smart, Director of Communications
welcome!
This is a blog about what it's really like to be in the wine industry...so sit back, take a sip and enjoy!

about me

our wines

our winery

our events

contact me

privacy statement




favorite posts
A Lifetime in Wine
Top 10 Traits of the Successful Family Winery
The Dreaded Family Meeting
Board Meeting Jitters
Is the Future of the Winery in Danger?
The Case of the Overweight Bottle
Wine and Dementia
Wanted: Talented (Normal) Individual for Family Owned Winery
A Sea of Wine
The Heroes of Our Industry
monthly archives
subscribe