Thoughts on a New Wine
For about three years now (or maybe it's been longer, I can't keep track) we've been thinking about crafting a new wine. This wine would be the sister wine to our Bordeaux-style blend we call The Mariner. This would be a white blend produced using Bordeaux grapes, most likely Sauvignon Blanc with a firm dollop of Semillon. The whole thing makes sense to us given our passion for Meritage wines and blending, plus white Bordeaux would be oh so delicious and fun to have around the winery.
With the abundance of this year's harvest, we think now might be the right time to create this wine. So, this past week, our team sat down to taste through a dozen different White Bordeaux or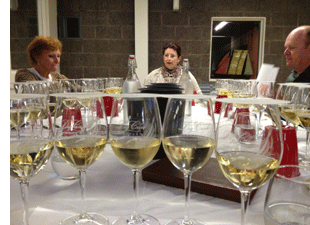 White Meritage blends from around California as well as several from Bordeaux, France. What we found was quite interesting and dramatic - wines that ranged from incredibly appealing to a wine that literally smelled like bilge water. We broke the flight into six different wines and tasted blind, as we always do. Overall, I was impressed with the line up - especially one wine from Napa that was 90% Sauvignon Blanc and 10% Semillon. It was really one of the better white wines I've tasted in months. It's purity of fruit; its balance and finesse were all very impressive. It was truly a stand out wine. In that same flight was a god-awful wine as well - one that did in fact smell like bilge water. Now, I don't go around smelling bilge water every day but good grief this wine was bad. I often wonder - what are people thinking? Do they know their wines are THIS bad? I'd hate be the one on the other end of the phone fielding customer service calls for this plonk. Anyway, the next flight of six wines was good, although not quite as memorable. There was one wine, again, which shall remain nameless that was a standout for all the WRONG reasons. First, it was not a good wine. Secondly, it was $66 dollars and sporting a CALIFORNIA appellation. Now that takes some serious guts (or something else) to charge that kind of price for a white wine with a California appellation. Again, I've got to wonder - what are people thinking?
As always, these tastings reveal so much to me. Namely that our wines are truly delicious and so well priced. We're not sure yet which direction we want go with this new White Meritage which leads me to my final thought - what do you think about us producing a White Meritage? Do you think it's a good idea? If you could name this wine, what would you call it? I'd like to hear your feedback.
welcome!
This is a blog about what it's really like to be in the wine industry...so sit back, take a sip and enjoy!

about me

our wines

our winery

our events

contact me

privacy statement




favorite posts
A Lifetime in Wine
Top 10 Traits of the Successful Family Winery
The Dreaded Family Meeting
Board Meeting Jitters
Is the Future of the Winery in Danger?
The Case of the Overweight Bottle
Wine and Dementia
Wanted: Talented (Normal) Individual for Family Owned Winery
A Sea of Wine
The Heroes of Our Industry
monthly archives
subscribe