December 2011 Archives
This will be my last post of the year. Like the grapevines that surround me, I need to go into dormancy mode!
What a year it's been. When I look back on what we've accomplished this year, I'm amazed. First, let me explain the "we". It's a group of likeminded, fabulous folks with a passion for wine and a dedication to the success of Dry Creek Vineyard. Some are old timers like Abe and Gary, who are pushing 54 years of service between the two of them. Some are 'tweeners' like Dru and Sally, and Cheyanne and Ramiro. And, some are newcomers like Sara and Michael, and Tim and Joe. We even have some return groupies like Matt-who flew the coop to expand his wings elsewhere and have now come home to nest at Dry Creek.
Each one of these people, and many more, worked diligently to help support our vision for a better winery, a better wine, a better customer experience. Whether in the cellar, in the tasting room, or in the offices, they gave their best.
Our accomplishments in 2011 are impressive. We have a wonderful new banking partner--not insignificant in these times when financing for small businesses can be uncertain. We partnered with a new national sales company, V2 Wine Group, who not only took over the responsibility for the wholesale distribution of our wines in all 50 states, but also hired several of our longtime employees giving them exciting new career paths. We laid a new foundation for our consumer direct business, and restructured related marketing efforts. We completed the replant of our oldest vineyard, DCV3, and harvested our first crop off of an exciting new experimental Zinfandel vineyard located directly in front of the winery. We launched a new package for our flagship Fume Blanc and redesigned the Meritage label too. We remodeled our aging tasting room and continued to upgrade and improve the grounds and facility to better serve our visitors in the coming years. We proselytized, we preached, we powered along, all with an eye toward continuing our pursuit of making wines that over deliver on quality and knock your socks off in terms of value. The list goes on and on...
Along the way, we traveled relentlessly (The Husband alone racked in 77 days on the road!) and we spread the gospel of Dry Creek to legions of wine buyers, wine lovers and industry gatekeepers. In short, we survived another year during the worst economic period since the Great Depression. Am I proud? You bet. Am I exhausted? You bet! And am I grateful to the dozens of dedicated staff and loyal followers of our brand around the world who helped us steer the boat in the right direction, YOU BET!
To all of you who helped us accomplish these important milestones, THANK YOU! May you have a joyous and restful holiday season.
Cheers!
The big bad wolf came up again. It's a sign of the changing times in this industry. Distributor consolidation.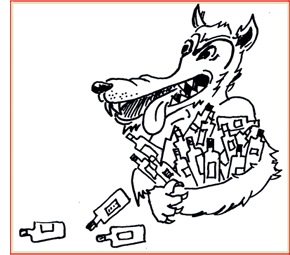 30, 20, even 10 years ago, many of our U.S. distributors who market and distribute our wines were privately owned businesses. Some were like Pat Ellsworth at Vintage Wine Marketing. Pat was our distributor in Northern California throughout the 70s and 80s. It was through working with him and his people that I learned the fundamentals of wholesale wine sales to the trade. Eventually Pat got out of the business and we selected a larger more powerful distributor to take over the entire state for us. It happens to be Wine Warehouse and they happen to be an excellent distributor. Over the years, we've made similar changes throughout our distribution network. But, there were small pockets of hold outs...where the little guys still prevailed and, in those wholesalers, we formed long and lasting relationships. We're kindred spirits, those of us who have privately held family owned businesses. Duking it out with the big boy distributors of the world of wine.
I am frequently confronted with how vividly things have changed in this industry in recent years and never more so than in a recent meeting with our national sales partner, V2 Wine Group. This talented group is charged with managing and ensuring sales execution at the distributor level. It's no easy task and we are thrilled to have them on board. That being said, as part of our review meeting and business planning for 2012, the sticky issue of distributor changes was brought to the table by V2. Now, I'm not going to name any names here, but let's just say that V2 made some recommendations about where we should consider changing distributor partners. The Husband and I were less than happy. In one case in particular, we would be ending a 40 year relationship that dates back to when my father first founded the winery. Ouch.
And really, this is the ugly truth of how things are these days. V2 is right. This particular distributor is too small to grow our business to the next level. And yet, how can we walk away? These people are like family. Is business really just business, as they say? Honestly, I'm torn and see both sides. I wish it wasn't like this, but there is a cold reality to getting business done.
I'm not sure what the outcome is going to be. But sitting in this meeting, I was struck with just how much things have changed since the days of my Dad and hand shake deals.
welcome!
This is a blog about what it's really like to be in the wine industry...so sit back, take a sip and enjoy!

about me

our wines

our winery

our events

contact me

privacy statement




favorite posts
A Lifetime in Wine
Top 10 Traits of the Successful Family Winery
The Dreaded Family Meeting
Board Meeting Jitters
Is the Future of the Winery in Danger?
The Case of the Overweight Bottle
Wine and Dementia
Wanted: Talented (Normal) Individual for Family Owned Winery
A Sea of Wine
The Heroes of Our Industry
monthly archives
subscribe