The Big Bad Wolf
The big bad wolf came up again. It's a sign of the changing times in this industry. Distributor consolidation.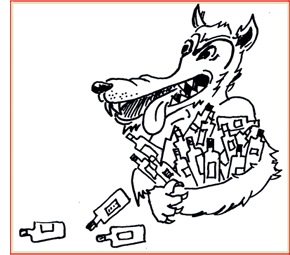 30, 20, even 10 years ago, many of our U.S. distributors who market and distribute our wines were privately owned businesses. Some were like Pat Ellsworth at Vintage Wine Marketing. Pat was our distributor in Northern California throughout the 70s and 80s. It was through working with him and his people that I learned the fundamentals of wholesale wine sales to the trade. Eventually Pat got out of the business and we selected a larger more powerful distributor to take over the entire state for us. It happens to be Wine Warehouse and they happen to be an excellent distributor. Over the years, we've made similar changes throughout our distribution network. But, there were small pockets of hold outs...where the little guys still prevailed and, in those wholesalers, we formed long and lasting relationships. We're kindred spirits, those of us who have privately held family owned businesses. Duking it out with the big boy distributors of the world of wine.
I am frequently confronted with how vividly things have changed in this industry in recent years and never more so than in a recent meeting with our national sales partner, V2 Wine Group. This talented group is charged with managing and ensuring sales execution at the distributor level. It's no easy task and we are thrilled to have them on board. That being said, as part of our review meeting and business planning for 2012, the sticky issue of distributor changes was brought to the table by V2. Now, I'm not going to name any names here, but let's just say that V2 made some recommendations about where we should consider changing distributor partners. The Husband and I were less than happy. In one case in particular, we would be ending a 40 year relationship that dates back to when my father first founded the winery. Ouch.
And really, this is the ugly truth of how things are these days. V2 is right. This particular distributor is too small to grow our business to the next level. And yet, how can we walk away? These people are like family. Is business really just business, as they say? Honestly, I'm torn and see both sides. I wish it wasn't like this, but there is a cold reality to getting business done.
I'm not sure what the outcome is going to be. But sitting in this meeting, I was struck with just how much things have changed since the days of my Dad and hand shake deals.
welcome!
This is a blog about what it's really like to be in the wine industry...so sit back, take a sip and enjoy!

about me

our wines

our winery

our events

contact me

privacy statement




favorite posts
A Lifetime in Wine
Top 10 Traits of the Successful Family Winery
The Dreaded Family Meeting
Board Meeting Jitters
Is the Future of the Winery in Danger?
The Case of the Overweight Bottle
Wine and Dementia
Wanted: Talented (Normal) Individual for Family Owned Winery
A Sea of Wine
The Heroes of Our Industry
monthly archives
subscribe