February 2013 Archives
I feel like a little kid with the excuse "my dog ate my homework." Only in this case, I'm neither a child nor is blogging the same as homework! Nonetheless, the fact that I've had a lengthy hiatus from writing this blog was brought to my attention by a loyal wine club member at an event last Saturday.
Gulp.
I was hoping no one would notice. Although secretly, I guess I feel honored that anyone would really care whether there's regular content on Wilma's Wine World or not. Truth be told, I've been frightfully busy the first 6 weeks of 2013, coupled with a complete lack of inspiration. Every time I sit down to try to write, I find myself covering the same topics or simply griping about the state of the wine industry...yes, I think you know by now that I miss the good ole days! (Less competition, fewer brands, more attentive distributors, etc.)
Now, I just learned that we've got even MORE competition--from Brad and Angelina. That would be Brad Pitt and Angelina Jolie. I kid you not! Here is the article straight from our industry's favorite news source: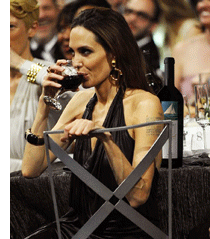 Wine Business. The fact that Brad and Angie (yep, I can call her that 'cause we go way back...check out this photo!) have entered the industry is another sign that the proliferation of brands and labels doesn't appear to be going away anytime soon. People from all walks of life have a fascination for the art of winemaking--but often, with little to no common sense as to how the product actually gets sold in the three tier system. Which means I'll be on a plane or in front of a distributor sales force telling our brand story a lot this year. (Ironically, I'm at the Southwest terminal this very moment.) Just since January 1, I've done this in the following cities: Los Angeles, Ft. Lauderdale, New Orleans, Dallas, Denver and Phoenix. Next month I'll do it again in Los Angeles, hoping that at least one or two people find my wines and what I have to say compelling enough to present our wines to the buyers of today's top restaurants and wine shops. Hmm, I wonder if Angelina intends to do this? Maybe I should offer to help?
Meanwhile, back at the winery things are humming along smoothly. There's a spring in people's step and a lot of excitement for the year to come. We have so many exciting things planned! We're creating several new one-of-a-kind wines for our wine club members and getting ready to bottle our single vineyard selections. We've launched our new Zin Lover's Club and are preparing a major overhaul to our website and ecommerce site. We're developing a marketing campaign to leverage our reputation as the "Wine for Sailors" and will be pouring our wines at the America's Cup which commences in the SF Bay later this summer. Our electric car charging station is installed and we're fine tuning our specialized education tours and tastings offered to the public. We are BUSY! But, it's always a good time to visit, especially now with the weather so beautiful and the crowds minimal.
Please stop in and say hello if you make it our way!
welcome!
This is a blog about what it's really like to be in the wine industry...so sit back, take a sip and enjoy!

about me

our wines

our winery

our events

contact me

privacy statement




favorite posts
A Lifetime in Wine
Top 10 Traits of the Successful Family Winery
The Dreaded Family Meeting
Board Meeting Jitters
Is the Future of the Winery in Danger?
The Case of the Overweight Bottle
Wine and Dementia
Wanted: Talented (Normal) Individual for Family Owned Winery
A Sea of Wine
The Heroes of Our Industry
monthly archives
subscribe