Wine Bloggers Unite!
Blogging is a bit like exercising. Once I get into it, I'm on a roll. But as soon as things get too hectic, my best efforts are completely derailed. And, I don't know about you, but I find it very hard to get back on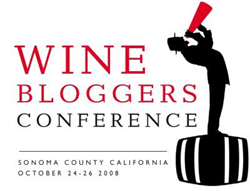 the treadmill after I've been off for a while. That is why it is uncanny that this is my 50th post!
When I started this blog, I did so very reluctantly. It was only after much cajoling by Jim Laube of Wine Spectator that I finally gave in. It's pretty hard to ignore advice like that even if I do hate computers. Now, 50 posts later, I guess I'm a veteran blogger in a growing sea of wine blogs. This milestone comes on the heels of just attending the first North American Wine Blogger's Conference. Over 170 bloggers from across the country gathered in Sonoma County to taste, tour, learn and blog about wine. And, I was right there with them.
It was great to finally put the names with the faces I've met online. Deb Harkness of www.goodwineunder20.blogspot.com, Tom Wark of www.fermentation.typepad.com, Gabe Sasso of www.gabesview.com, Gary Vaynerchuk of tv.winelibrary.com, Alder Yarrow of www.vinography.com, Jason Alexander of www.stormhoek.com, and many many others.
You'd have to live under a rock to not realize that blogging and other forms of social media are changing the business world. For over 75 years, media content and consumer information have been tightly controlled by the news/media/information industries. This is no longer true. Today, anyone can have a voice and share their opinions on just about any subject, reaching millions of people around the world without even leaving their living room. When you think about it, it's truly awesome. Of course with that, comes an awful lot of clutter/junk. Still, opportunities abound for bloggers and businesses alike during this unprecedented time. If you're just getting into blogging, here are a few conference observations:
Wine bloggers do not fit a consistent mold. Some are young and edgy. Some are mature with graying hair. Most are somewhere in between. Nearly all are passionate with a quirky off beat outlook that contradicts the established forms of wine writing and wine reviewing that exists today. Generally all have a day job and cram their penchant for blogging in on weekends and the wee hours of the night. Nearly all would also like to make money from their blog but few will actually do so. In fact, the chances for financial success are so slim that even the most successful wine bloggers today, including Tom Wark of www.fermentation.typepad.com and Alder Yarrow of www.vinography.com continue to support themselves in other manners. As Tom put it, the few extra dollars he actually makes from selling advertising on his blog barely pays for the tequila he consumes on his vacations to Mexico. As for folks like me, blogging has to be a passion. It has to be fun. It can't be another business responsibility or chore like employee reviews or expense account forms. Or, you'll never stick with it.
Gary Vaynerchuk of WineLibrary TV put it best. This feisty entrepreneur has revolutionized the wine industry with his humorous and irreverent online wine recommendations. Don't believe me? Just ask the 100,000+ people who regularly watch his videos or vlogs. At one point, someone asked Gary how they could get more visitors to their blog. Gary asked, "How many hours of sleep are you getting?" When the answer was 6 or 7, Gary promptly retorted, "Well, that's the problem, you're just not spending enough time on your blog!"
Blogging isn't for the faint of heart. It takes a commitment and it can NOT be a transparent attempt to sell a product. If you're thinking about starting one for your own business, or you've already taken the plunge, you may have additional thoughts to share...
welcome!
This is a blog about what it's really like to be in the wine industry...so sit back, take a sip and enjoy!

about me

our wines

our winery

our events

contact me

privacy statement




favorite posts
A Lifetime in Wine
Top 10 Traits of the Successful Family Winery
The Dreaded Family Meeting
Board Meeting Jitters
Is the Future of the Winery in Danger?
The Case of the Overweight Bottle
Wine and Dementia
Wanted: Talented (Normal) Individual for Family Owned Winery
A Sea of Wine
The Heroes of Our Industry
monthly archives
subscribe