BBBRRRRR........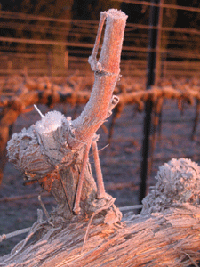 We've been in the middle of a cold snap lately. Warm sunny days are long gone and have been replaced by frosty mornings and cold shivery evenings. The vines have hunkered down for a long winter's nap and they won't start growing again until the ground warms up in spring. It's a process not too dissimilar to a bear hibernating for the winter.
So, just like this grapevine, the Wilma blog will be going dormant through year end! Time to regroup and refocus on the many blessings of the 2008 year. Many thanks and best wishes to all who've read my gibberish these past twelve months…
There's much much more to come in 2009!!!
welcome!
This is a blog about what it's really like to be in the wine industry...so sit back, take a sip and enjoy!

about me

our wines

our winery

our events

contact me

privacy statement




favorite posts
A Lifetime in Wine
Top 10 Traits of the Successful Family Winery
The Dreaded Family Meeting
Board Meeting Jitters
Is the Future of the Winery in Danger?
The Case of the Overweight Bottle
Wine and Dementia
Wanted: Talented (Normal) Individual for Family Owned Winery
A Sea of Wine
The Heroes of Our Industry
monthly archives
subscribe