Where Are All The Good Tasting Rooms?
Is it too late to say "Happy New Year?" Naahh...Happy New Year everyone!

I hope you all had a restful and joyful holiday season. This year I vowed not to get caught up in the stressed out frenzy associated with Xmas. Instead, Santa sent us on a trip to Mexico where Wilma imbibed on numerous cervezas and a shot or two of tequila. (I find it's always good to cleanse the palate with non-grape based products from time to time.)

All in all, it was a great way to "check out" as the winery was essentially closed. Not a cellar rat was stirring, not even a mouse.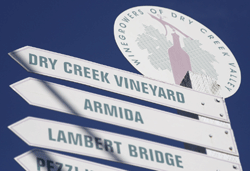 Shortly after, we had family visit for New Years. One of the things they were dying to do was go wine tasting. What a concept! Believe it or not, I rarely get out to do this anymore. It's a crying shame really, to live right dab in the middle of wine country and not take advantage of the many tasting rooms that are open to the public. I had a fascinating day and it gave me plenty of ideas for our own tasting room as well as solidified a few things I already know about Dry Creek Vineyard.
| | | |
| --- | --- | --- |
| | | |
| 1. | | OUR WINES ARE SO DAMN CHEAP! Honestly, people will NOT find better wines for the money in the surrounding area. While out wine tasting, the least expensive white I found was $18. And that was for a mediocre Sauvignon Blanc. People can come here and have a FANTASTIC Chenin Blanc for $12. Same is true for the reds. I was on a Pinot mission so many of the wineries I visited specialized in that varietal. Pinot Noir tends to be pricier due to its finicky nature, but still one shouldn't have to get sticker shock to find a good one. On average, I had to pay $45-$50 for a good bottling. Again, and not to toot our horn too much, but we have OUTSTANDING red wines that range from $17-$30. And for the luxury crowd, our $40 Mariner blend and $55 Endeavour Cabernet Sauvignon are unbeatable. |
| | | |
| 2. | | WE HAVE THE BEST TASTING ROOM STAFF AROUND! Not one place I went passed my "meet and greet" test. In other words, as a visitor, I expect to be greeted warmly with a friendly smile and enthusiastic host. I want to hear the history of the winery, the passion of the owners, the philosophy of the wines, and all the stories that make this industry and our product (wine) so special. I shouldn't have to drag this info out of them. Yet, with just one exception (Arista Winery), this is exactly what I had to do. Unforgivable, in my opinion. And at one place, the guy behind the bar actually had the nerve to check his cell phone while I was standing right in front of him!!! Where's his pink slip? |
| | | |
| 3. | | WE HAVE ONE OF THE PRETTIEST WINERIES AROUND! Most of the wineries we visited were fairly new. While nice, some felt more like a Pottery Barn than a winery. And, one was stuck in a time warp, as if nothing had changed since 1978. While there are things I want to fine-tune, we really do have a lovely facility. Thirty-seven years has given us a fine patina. Established shrubs, landscaping and gardens welcome our guests. Our Loire inspired architecture feels welcoming yet impressive. And the entrance proudly showcases all the years of passion and and hard work that have been put into making each and every bottle. I'm sure I sound biased, but after a long day of tasting I was proud to come home. |
I can honestly say that Dry Creek Vineyard offers one of the most rewarding tasting room visits around. I always believed this, and now have the first hand experience to back it up. In today's economy, people expect unparalleled quality along with GREAT value. Well I say, bring 'em on. We are the place to come! Drink Dry Creek! And, if you feel otherwise, I WANT TO HEAR ABOUT IT!
P.S. I'd love to hear your suggestions for other "must visit" tasting rooms. After all, I have a New Year's resolution to uphold - more tasting of course!
welcome!
This is a blog about what it's really like to be in the wine industry...so sit back, take a sip and enjoy!

about me

our wines

our winery

our events

contact me

privacy statement




favorite posts
A Lifetime in Wine
Top 10 Traits of the Successful Family Winery
The Dreaded Family Meeting
Board Meeting Jitters
Is the Future of the Winery in Danger?
The Case of the Overweight Bottle
Wine and Dementia
Wanted: Talented (Normal) Individual for Family Owned Winery
A Sea of Wine
The Heroes of Our Industry
monthly archives
subscribe