dcvprguy: June 2009 Archives
When Kim Wallace, er, check that, Wilma, asked me to step in and be a guest blogger, I had more than a few trepidations. For one, how in the heck can I fill such big shoes? After all, Willma's been doing this a while and her voice is about as authentic and real as it gets. I know a lot of people that read Wilma's blog (including some of her close friends and family) and they really enjoy it. I think my second thought was, okay, don't screw this up – your job is on the line here. Thankfully, as it turns out, a terrific topic to blog about came racing across my desk just this morning.
As Director of Communications, my job encompasses just about all things having to do with communicating. From writing press releases and corresponding with the media to conducting sales meetings and sharing the family story, Kim relies on me to ensure that our message is clear and consistent. Public Relations in the wine industry can be, well, the word challenging comes to mind. Getting ink for your brand among the thousands of other brands is down right daunting. But, our motto has always been stay on message, stick to the story, and eventually we'll get some ink. Patience and timely follow-up are two huge keys to being a successful PR person.
And so, when great press comes across my desk, I can't hel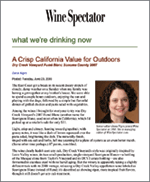 p but be just a bit giddy. Today, that press was in the form of a Wine Spectator.com feature by Online Managing Editor, Dana Nigro. Click the PDF to check out what Dana has to say about our 2007 Fume Blanc as well as our other single vineyard bottlings including our new 2008 Dry Creek Valley Sauvignon Blanc.
It's usually at this point that I go into Wilma's office looking for a PR "high five." One thing (among many) that is great about the big boss is that she "gets it" – in other words, she understands how challenging it is to get good press, she has reasonable expectations for press coverage and when something good does happen, she is appreciative of the hard work and effort.
So, Wilma, if you're reading this poolside at some Italian villa, I'm giving you a virtual high five. Be sure to have a glass of prosecco for me!
welcome!
This is a blog about what it's really like to be in the wine industry...so sit back, take a sip and enjoy!

about me

our wines

our winery

our events

contact me

privacy statement




favorite posts
A Lifetime in Wine
Top 10 Traits of the Successful Family Winery
The Dreaded Family Meeting
Board Meeting Jitters
Is the Future of the Winery in Danger?
The Case of the Overweight Bottle
Wine and Dementia
Wanted: Talented (Normal) Individual for Family Owned Winery
A Sea of Wine
The Heroes of Our Industry
monthly archives
subscribe