ErinG: August 2010 Archives
Last week I had the chance to spend a little time in Denver, CO. I was there with a friend on a business trip, which left some time for me to explore the city solo. In order to capitalize on my short stint there, I decided to be the tourist (as opposed to host the tourist). It was interesting, walking around downtown, visiting hot spots per local recommendations. After two days I felt like I had a genuine impression of the city. On the flight home I started thinking, and I have mentioned this before; working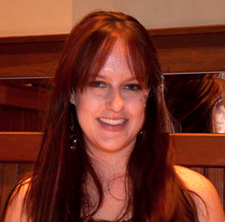 behind the bar at a premium California winery is like traveling. Every day I meet people from various states and countries, and each interaction leaves a unique mark.
As a lover of language and culture I am always thrilled to host international guests. About two months ago, on one such occasion, I met a family from Strasbourg. They were on a tour of the United States, and they came to Dry Creek Vineyard per suggestion from their hotel concierge. In my broken high school French I welcomed them, and did my best to explain the DCV profile. Four wines later, our flagship was deemed the favorite. After ringing up a chilled bottle and handing over a couple picnic glasses, the gentleman said, "Merci, votre Blanc Fumé est excellent!" Even I understood that one, "Thank you, your Fumé Blanc is excellent!" The visit was brief but his sentiment was imprinted.
Erin Ginder-Shaw, Assistant Tasting Room Manager
welcome!
This is a blog about what it's really like to be in the wine industry...so sit back, take a sip and enjoy!

about me

our wines

our winery

our events

contact me

privacy statement




favorite posts
A Lifetime in Wine
Top 10 Traits of the Successful Family Winery
The Dreaded Family Meeting
Board Meeting Jitters
Is the Future of the Winery in Danger?
The Case of the Overweight Bottle
Wine and Dementia
Wanted: Talented (Normal) Individual for Family Owned Winery
A Sea of Wine
The Heroes of Our Industry
monthly archives
subscribe