Julie: March 2011 Archives
Now that I have been Interim Winemaker at Dry Creek Vineyard, working under the direction of Bill Knuttel Executive Winemaker, for six months I thought it was time to introduce myself.
I grew up in Denver until age 13 and then moved to Massachusetts. I got my Bachelor's degree in Hotel, Restaurant, and Travel Administration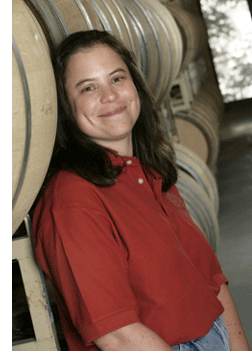 at the University of Massachusetts, followed immediately by an Associates Degree at the Culinary Institute of America. I cooked professionally for a total of 14 years including opening One Market and Boulevard Restaurants in San Francisco.
For the past 12 years I have been working in the wine business in various wineries including some larger: Gallo of Sonoma and Sterling Vineyards, as well as some smaller including Corison Winery, Schramsberg Vineyards, Louis M Martini, Yering Station, and Flowers Vineyard and Winery. This entrance into the wine business started with my studying at UC Davis for a Masters Degree in Enology.
I came into work at Dry Creek Vineyard the day after Labor Day and 2 days later the grapes started coming in. There were lots of challenges this past harvest including a lot of disease pressure due to the cool summer, a heat spike that surprised most of us, starting harvest about three weeks late and then the Reds came in early. Talk about starting things off with a bang. They never said winemaking was going to be simple. But, during all of this I have been welcomed into the Dry Creek Vineyard family and I appreciate all of the support.
Someone asked me today what is going on in the cellar? We actually have lots of things going on in the winery. We are starting to bottle the 2010 Fumé Blanc tomorrow. So, today we are making sure the wine is ready to be bottled including checking on the temperature of the wine. Last week we blended some of the 2009 wines including the Mariner, the Endeavour and the Merlot. Happily those folks who came to the Barrel Tasting weekend got to taste the new Mariner blend and it looks like it will be a crowd pleaser. By next week we should have the Cabernet Sauvignon and the Meritage blended, too. We are about mid way through the malo-lactic fermentations in the winery, so the 2010 wines are either being topped or being racked. 2010 was not an easy vintage with the late start and early finish due to the rain, but it looks like the wines are going to be delicious. I look forward to getting to show you the new wines at Dry Creek Vineyard.
Julie Schreiber, Winemaker
welcome!
This is a blog about what it's really like to be in the wine industry...so sit back, take a sip and enjoy!

about me

our wines

our winery

our events

contact me

privacy statement




favorite posts
A Lifetime in Wine
Top 10 Traits of the Successful Family Winery
The Dreaded Family Meeting
Board Meeting Jitters
Is the Future of the Winery in Danger?
The Case of the Overweight Bottle
Wine and Dementia
Wanted: Talented (Normal) Individual for Family Owned Winery
A Sea of Wine
The Heroes of Our Industry
monthly archives
subscribe