ktovani: March 2010 Archives
Twenty-six years ago I was younger than two thirds of the guests then visiting the Dry Creek Vineyard tasting room. Today I'm older than two thirds of the guests. Is it just me or do many of the Millennial Generation really look barely a day over 15? Maybe it's just me getting older. In any case, it is wonderful to see wineries experiencing a surge in younger tasters. When I started at Dry Creek, back in 1984, very few of our tasters were in their 20s; we were catering to a much narrower, older audience then.
There have been many changes over the past 26 years at the winery. In 1984, the "tasting room" was in a small room, probably no more than 18' x 20', with a concrete floor, a wooden bar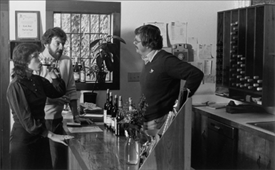 similar to today's, but much smaller, and a pot belly wood stove up against one wall. We didn't have computers or cash registers in the tasting room, just a metal box for money and a receipt book we kept in a drawer behind the tasting bar.
The music being played at the time was strictly classical, that was Dave's Law. No Rock 'n Roll or R & B allowed. We were appealing to the 50-somethings and this group was not terribly fond of "that music." Of course, all of the employees were into R & R and R & B, but we couldn't risk offending our core constituency tasters.
Today 80% of the music played in the tasting room is R & R and R & B and our guests love it. Of course, today's 50-somethings and 60-somethings grew up with Rock & Roll, and the Millennial Generation seems to have a broad appreciation for many styles of music, so they seem to enjoy the atmosphere as well.
Dry Creek has always attracted a great variety of interesting personalities. Dave, being an independent, intelligent Free Thinker, saw the value of hiring a diverse group of fun loving wine enthusiasts. We worked hard and we played even harder. I remember playing touch football after work, out on the lawn, with a boom box blasting Rock 'n Roll, while a lovely array of DCV wines graced our picnic tables, along with cheese and crackers and whatever else we had brought with us. Sometimes such events w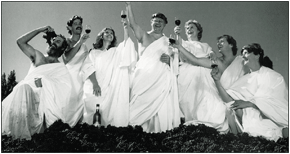 ere spontaneous, other times we would loosely plan to bring something to BBQ after work. Summer weekends felt like a nonstop, never-ending party.

Of course, back then only one or two employees had children. The rest of us didn't have to run off after work like obsessed soccer moms. We just had a great time enjoying each other's company. Dave would open his home for BBQs, swimming and dancing, and we would all bring a dish to share, along with a bottle of wine and a towel. Seeing how many bodies we could cram into Dave's hot tub was always great fun. Those were the days.

We used to have a wooden suggestion box which sat next to the coffee machine into which we would place, well, suggestions. Sometimes there were some rather hilarious recommendations, but for the most part they had to do with 'improvements' to the way we were doing things, or with something that was needed to do a better job. My suggestions were mainly about 'going more organic'. I was a dyed-in-the-hide nature hippie, always on the lookout for a 'smaller footprint' on Mother Earth.

I had graduated from Sonoma State University in 1975 and stayed on for a while in the new, alternative energy department, before making my final break from SSU. I was using a solar panel I had built for heating water, along with a solar oven and a solar fruit dehydrator. I was quite committed to an alternative lifestyle at the time. My suggestions were politely reviewed and then put aside.

The suggestion box was retired many years ago, but I am pleased to note that in recent years Dry Creek has implemented many changes in its operations so that we might tread a little lighter upon this beautiful planet of ours. Changes have been made in the vineyards, including water recovery, and the lighting throughout the winery has been upgraded for greater energy efficiency; we have owl houses and bat houses around the winery, as well as predator perches in the vineyards.

Don Wallace, President of Dry Creek Vineyard and a founding member of the Sustainable Agriculture movement at the California Wine Institute, has been a prime mover behind many of these changes. He has been exploring alternative forms of energy use for the winery, and he is currently involved with the Dry Creek Habitat Restoration project. That old suggestion box may have been retired long ago, but more improvements have been implemented in recent years than I would ever have thought possible 26 years ago.

Karen Tovani, Tasting Room Associate
welcome!
This is a blog about what it's really like to be in the wine industry...so sit back, take a sip and enjoy!

about me

our wines

our winery

our events

contact me

privacy statement




favorite posts
A Lifetime in Wine
Top 10 Traits of the Successful Family Winery
The Dreaded Family Meeting
Board Meeting Jitters
Is the Future of the Winery in Danger?
The Case of the Overweight Bottle
Wine and Dementia
Wanted: Talented (Normal) Individual for Family Owned Winery
A Sea of Wine
The Heroes of Our Industry
monthly archives
subscribe