Kim: August 2011 Archives
Sometimes I really can't think of what to write. My days are jam-packed at the winery and then at the end of the day, I move into my "hey Mom, look at this!" mode. Combining a demanding wine business and all of its ongoing challenges with being a good mother is well... not for the faint of heart. It requires enormous amounts of energy, lack of sleep and patience beyond your wildest dreams. I've also found that generous doses of wine can provide some assistance. Turn up your sound.....
Don't get me wrong. I do not drink excessively. Nor, do I use wine (alcohol) to sooth my troubled soul, the first sign of problem drinking. However, I do find that sipping very slowly on a glass of wine (yes, it helps when it's free for me!) while sitting outside watching my son perform his latest trick on the trampoline or bicycle is a nice way to transition from the "crisis du jour" at Dry Creek Vineyard to a more peaceful existence in my back yard.
I especially love this time of year. The "Dog Days of Summer" as they call 'em. The kids are still out of school and the structured pace of the Fall selling season with its yearend business travel, emphasis on OND sales performance (translation: October, November, and December had better be strong!) and the frenetic and unpredictable nature of Harvest nearly upon us, is still a blissful few weeks off. Normally, I'd be in Maine, visiting relatives and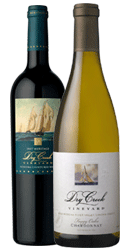 chilling out. This year, I had to cancel my plans due to work related responsibilities, and let me tell you, I am feeling a little bit sorry for myself!
So, for the rest of you "End of Summer" vacationers, I thought you might like to know about a special promotion we're running. We call it our "Back to School" special. It's a 2 bottle offering of two of our favorite but lesser known wines, our 2008 Foggy Oaks Vineyard Chardonnay, and 2007 Meritage. They are both perfectly delicious and great accompaniments for this time of year. Save 25% with shipping included (or better still, join our Wine Club and Save 35%).
And, they just might make the end of day transition in your family a happier time too!
welcome!
This is a blog about what it's really like to be in the wine industry...so sit back, take a sip and enjoy!

about me

our wines

our winery

our events

contact me

privacy statement




favorite posts
A Lifetime in Wine
Top 10 Traits of the Successful Family Winery
The Dreaded Family Meeting
Board Meeting Jitters
Is the Future of the Winery in Danger?
The Case of the Overweight Bottle
Wine and Dementia
Wanted: Talented (Normal) Individual for Family Owned Winery
A Sea of Wine
The Heroes of Our Industry
monthly archives
subscribe