Kim: September 2012 Archives
I don't often play hooky. There's just an endless amount of work to get done around here and nonstop responsibilities that are always pressing. Besides when I get a day off I'd rather spend it with my kids and family.
But I recently joined my out of town cousins for a day of winery hopping in Napa. I forgot how fun it is to taste wine, hear the stories, and visit the unique properties so reflective of their owners. Plus I figured it was an ideal opportunity to do some spying on the competition!
Pride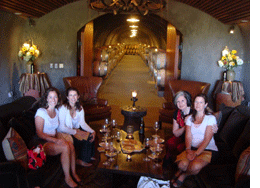 Mountain Winery is a beautiful drive up Spring Mountain Road outside the town of St. Helena. Open only by appointment, we were treated to a tour and tasting in their caves and tasting salon overlooking the vineyards that span the Mayacama Mountains. Of course, none of this came cheaply; the fee was $75 per person. But then again, that's Napa for you. The wines were delicious albeit very expensive. I still can't believe I plunked down an astounding $130 for a Cabernet. Our host was superb, passionate about wine, and extremely knowledgeable overall. Nothing was canned or rehearsed, and she made us feel like old friends of hers in no time. She gets an A+ in my book.
I was planning to go back to work after our picnic lunch, but suddenly decided we should visit Raymond Vineyards. This is one of the wineries that Jean Charles Boisset has purchased, adding to his growing stable of California wineries. He's been getting a lot of press as the "new Robert Mondavi of our generation" and so I was dying to see what he had done to the venerable Raymond family estate. Good grief. It's hard to describe but I'd say it's a cross between a "Napa Valley Night Club" and "Alice in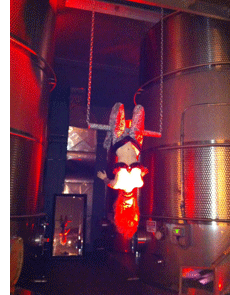 Wonderland." Talk about over the top. From the bizarre hall of senses to the crystal cellar with mirrored tanks and scantily clad mannequins hanging from the rafters, I felt like I was in a high end strip club (I've never actually been to one, but this is what I imagine if I had!). While the wines were nice, the most striking observation was how five generations of Raymond family efforts have been wiped clean from the visitor experience. There was simply no connection to the heritage of the family or mention of the history of the winery. I felt sad and somewhat baffled since it seems like there must have been something relevant the new owners could salvage from the past. It also was a bold reminder of the importance of authenticity. And that's where Dry Creek Vineyard shines. There's nothing contrived or overtly "forced" here. We don't put on airs and we don't try to be something we're not. A visit to Dry Creek Vineyard should ALWAYS include the story of our past along with the innovative changes we've made that have resulted in the superb quality of our wines today. It should NEVER be about form and ALWAYS be about substance. In a nutshell, it's about wines that express the nuances of their appellation and the people who work so hard to create them. No mannequins, no crystal chandeliers, no fluff.
And if that's not the case, then, please, please, please I want to hear about it. Ok?
In this day and age of being "plugged in" - you know those high tech, high energy social media types that are constantly tweeting, facebooking, foursquareing, instagraming, blah, blah, blah - I often feel like my head is going to explode. How do they keep up the energy? Red Bull? Triple espressos? Power naps? In all seriousness, I do understand the power of these new forms of communication. And while I may not be the most savvy (or even like) this age of instant communication, it's more relevant than ever for our business.
And that's why I got really excited when I learned that not ONE but TWO of our wines were nominated for a Snooth People's Voice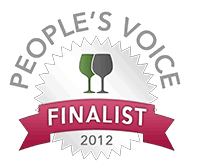 Award. What is Snooth you ask? Good question. I actually had to do some digging myself. What I found was fascinating. Snooth is an incredible online resource about all things wine related. You can learn about wines from around the world. You can share thoughts and engage in online forums about the wines that you like. You can learn about food and wine pairing. You can BUY wine! It's really one stop shopping for wine lovers. Snooth, being the creative energetic types that they apparently are, created a "People's Voice Awards" wherein their customers vote for their favorite wines from the around the world. Thousands of wines were submitted. Now in the final rounds, two of our wines have made the cut. I have to say, this is especially gratifying. Why? Because it tells me that our wines are being appreciated by actual people who actually enjoy them. Yes, wine critics are important, but to have our wines given the seal of approval from wine consumers makes my heart feel proud.
The voting is not over. I'd like to encourage you take 10 seconds to vote for our Fume Blanc and Sauvignon Blanc. Here are the links:
Fume Blanc: http://www.snooth.com/awards/?v=7673574
Sauvignon Blanc: http://www.snooth.com/awards/?v=7571456
In our socially engaged world, it's harder than ever for a winery like ours to cut through the clutter. Thanks to Snooth, we too have been given a voice with our most important constituents: Those who drink and enjoy our wines on a daily basis.
welcome!
This is a blog about what it's really like to be in the wine industry...so sit back, take a sip and enjoy!

about me

our wines

our winery

our events

contact me

privacy statement




favorite posts
A Lifetime in Wine
Top 10 Traits of the Successful Family Winery
The Dreaded Family Meeting
Board Meeting Jitters
Is the Future of the Winery in Danger?
The Case of the Overweight Bottle
Wine and Dementia
Wanted: Talented (Normal) Individual for Family Owned Winery
A Sea of Wine
The Heroes of Our Industry
monthly archives
subscribe