Kim: August 2010 Archives
Mother Nature has been acting rather hormonal lately. Erratic weather conditions and unpredictable swings in temperature have left even the most seasoned grower/vintner guessing as to when harvest will start. Honestly, I can't remember an odder summer. (I actually experienced better weather in Maine than we've had here.)
As everyone scrambles to get ready for the 2010 harvest, most are speculating that things won't really get started until mid-September. That's a good 3 weeks later than normal. Of course, first to get picked is always Pinot Noir and Chardonnay intended for sparkling wine production. My good buddy Judy Jordon over at J Wine Company brought her first load of fruit in last Wednesday. In the still wine business, most of us are still waiting patiently on the sidelines.
Postponing harvest isn't necessarily a bad thing. In theory, the slower the grapes ripen, the more complex and concentrated the fruit will be. Maybe that's why Ken Wilson, friend and grower of our Wilson Ranch Chenin Blanc is so optimistic. In his words, "I don't know what everyone is all worried about, we've had fabulous growing conditions." Easy for him to say…he's over there in the Sacramento Delta where they're just happy to be growing grapes!
Here in Sonoma County, many of us are still recovering from the blistering heat that bombarded us last week. (It spiked to over 110 degrees within a 24 hour period.) Those who were overly zealous in their spring leaf thinning (in order to get better air flow to minimize the possibility of mold and mildew) really got nailed, losing up to 50% of the crop to sunburn damage. Fortunately, we've got a seasoned captain at our helm who made sure we didn't end up in this boat. (Boating pun intended!)
While Mother Nature might be menopausal, and winemakers are getting a bit skittish, it's the growers who tend to be the most anxious of all. For them it's all about harvesting their grapes as soon as humanly possible. Their livelihood depends on it. Which is why it's a constant tug o' war. Growers want their crops off early so they can get paid as soon as possible. Winemakers want to prolong the arrival of fruit until conditions are ideal and ripeness is optimal. If you happen to be BOTH the grower and the producer, like we are, you pick when you're darn well good and ready and try to stay one step ahead of Mother Nature, after all…
Everyone knows not to mess with Mother Nature!
Sunburned grapes due to
Mother Nature's hot flash

Happy grapes due to proper shading and Mother Nature's natural A/C
Sometimes you have to put the family back into the family business-which is exactly what I just returned from doing. A couple of weeks on the coast of Maine was the perfect way to recharge my batteries and reconnect with my kids. Throw in perfect weather, plenty of ice cream and I swear I became the poster child for "Life is Good!" Since a picture is worth a thousand words I thought I'd share a few. Thank you guest bloggers Bill and Erin and to everyone who held the fort down in my absence. I love you all!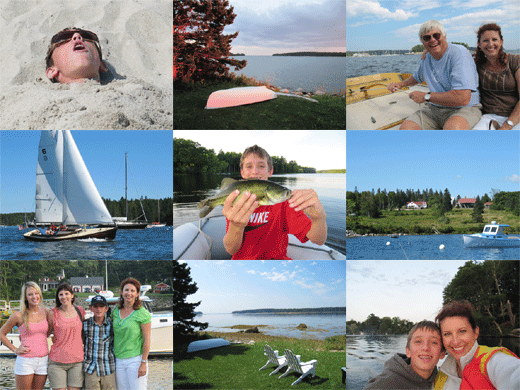 welcome!
This is a blog about what it's really like to be in the wine industry...so sit back, take a sip and enjoy!

about me

our wines

our winery

our events

contact me

privacy statement




favorite posts
A Lifetime in Wine
Top 10 Traits of the Successful Family Winery
The Dreaded Family Meeting
Board Meeting Jitters
Is the Future of the Winery in Danger?
The Case of the Overweight Bottle
Wine and Dementia
Wanted: Talented (Normal) Individual for Family Owned Winery
A Sea of Wine
The Heroes of Our Industry
monthly archives
subscribe