Kim: October 2011 Archives
It's early October here in wine country and today feels more like mid-January. The cloud deck is low, clinging to the hillsides around the Dry Creek Valley like a smoky fog. The weather, once again, is proving to be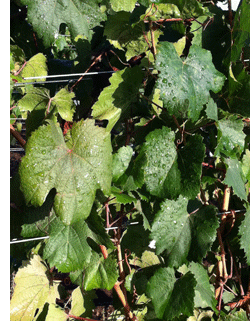 unpredictable. Just a few short days ago, we were experiencing a beautiful Indian summer here in wine country. But now, it seems that overnight we've gone from fall to winter. Winemakers and vineyard managers are not happy.
Harvest-wise, we are just about 60% finished. All of our Chardonnay and Chenin Blanc has come in. And with the exception of one vineyard, the Sauvignon Blanc is safely resting in tanks going through fermentation. Zinfandel is getting close, but we do have a few key vineyards still waiting to be picked. The Bordeaux varieties - Cabernet Sauvignon, Merlot, Cabernet Franc and others are still hanging on the vine. With this cool, rainy weather settling in, it appears that harvest will stall yet again until sunshine and warmer weather arrives.
Rain during this time of year is not unusual. The storm forecast to come in tonight is strong for this time of year, but should move quickly out of the area by tomorrow afternoon. With some breezy post-storm conditions, we should get enough drying in the vineyard so that any potential for rot is minimized.
Once again, all of us that live and breathe the harvest season are at the mercy of Mother Nature. Sometimes, it's so easy to forget that we are in the business of farming and having to take the good with the bad is just the nature of the beast. Somehow, though, we always figure a way through and come out with great wines on the other end. I can tell you though, most winemakers are hoping next year's weather returns to normal because three straight years of freaky weather is enough already!
welcome!
This is a blog about what it's really like to be in the wine industry...so sit back, take a sip and enjoy!

about me

our wines

our winery

our events

contact me

privacy statement




favorite posts
A Lifetime in Wine
Top 10 Traits of the Successful Family Winery
The Dreaded Family Meeting
Board Meeting Jitters
Is the Future of the Winery in Danger?
The Case of the Overweight Bottle
Wine and Dementia
Wanted: Talented (Normal) Individual for Family Owned Winery
A Sea of Wine
The Heroes of Our Industry
monthly archives
subscribe