Kim: December 2013 Archives
This is one of my favorite times of year.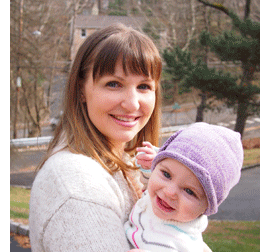 There's a chill in the air and everyone seems to be in a festive mood... even if they might feel a bit stressed about the holidays. Another reason I love this time of year is all the goodies that we get to eat! Family recipes, especially, are important as they carry on the tradition and legacy from generation to generation. I definitely have my own which I've shared in the past. This time, I thought it would be fun to share a family recipe from one of our employees - Sara Rathbun. Sara has a new little one at home so I wonder whether she even has time to make these delicious bars, but the recipe just sounded too good not to share!
Sara: This is my grandmother Iris' Pumpkin Chiffon Bars recipe. In my family, you are either a pumpkin pie person or a pumpkin chiffon person and there are definite arguments over which side you are on, and who gets the last piece. It's something that not a lot of people have heard of before, and usually I get asked for the recipe after they taste it. I make this every year in memory of my grandmother, and this year is especially meaningful as my daughter, Mila Iris, shares her name.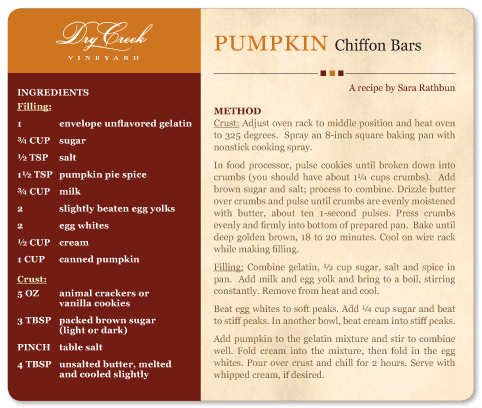 welcome!
This is a blog about what it's really like to be in the wine industry...so sit back, take a sip and enjoy!

about me

our wines

our winery

our events

contact me

privacy statement




favorite posts
A Lifetime in Wine
Top 10 Traits of the Successful Family Winery
The Dreaded Family Meeting
Board Meeting Jitters
Is the Future of the Winery in Danger?
The Case of the Overweight Bottle
Wine and Dementia
Wanted: Talented (Normal) Individual for Family Owned Winery
A Sea of Wine
The Heroes of Our Industry
monthly archives
subscribe