Finishing Touches on Harvest 2013
I'll remember this year's harvest in one word: fast. After our first load of Chenin Blanc grapes arrived, so did every other varietal. Seemingly in the blink of an eye we were discussing our last lot of Cabernet Sauvignon still hanging on the vine. The initial report from our winemaking team is that quality will be high across all varietals. Comparison wise, we had very similar growing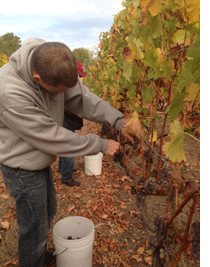 conditions as last year. The summer season was dry, with moderate temperatures and during harvest we had almost perfect weather for extended hang time.
This past week, we had a unique opportunity to come together to harvest the very last of the fruit still hanging on the vine. Each year we keep our fingers crossed that we will be able to produce a late harvest wine. For the past several vintages, that has not been the case. In 2013, however, Winemaker Tim was able to find a small block of Sauvignon Blanc and Semillon grapes in our DCV2 vineyard, just behind the winery and bordering Dry Creek. Having "noble rot", the fancy viticulture term for Botrytis, these grapes achieved remarkable concentration and honeyed characters. Attaining natural Botrytis is a tricky proposition. Growing conditions have to be perfect with rain being an important factor at just the right time. In addition, extended hang time is key - the more hang time, the happier the grapes become!
In the early morning hours, our cellar crew headed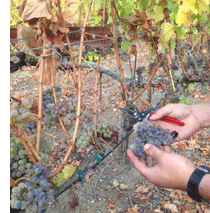 to the vineyard for some "bonding time" to harvest these beautiful bunches. Noble rot may not look sexy but the wine that is produced certainly is. For those that have tried our Soleil Late Harvest Sauvignon Blanc and Semillon blend, I'm sure you'll agree that this sultry wine is intense and concentrated with wonderful honeysuckle and lavender nuances. I absolutely adore this wine as a finishing course during Thanksgiving when I always make my signature Parmesan Apple Pie.
With harvest now in our rear view mirror, we're all looking forward to some much needed R&R and the warmth of the upcoming holiday season.
welcome!
This is a blog about what it's really like to be in the wine industry...so sit back, take a sip and enjoy!

about me

our wines

our winery

our events

contact me

privacy statement




favorite posts
A Lifetime in Wine
Top 10 Traits of the Successful Family Winery
The Dreaded Family Meeting
Board Meeting Jitters
Is the Future of the Winery in Danger?
The Case of the Overweight Bottle
Wine and Dementia
Wanted: Talented (Normal) Individual for Family Owned Winery
A Sea of Wine
The Heroes of Our Industry
monthly archives
subscribe