So Long, Farewell, Alvederzane, Good Night...
Today is the day. I can't deny it anymore, I simply can't. It's time to throw a retirement party for Wilma. Just days after my 51st birthday, I'm ready to throw in the towel. Not on life, just on blogging! Let me explain.

Six years ago, and 229 posts ago, I started this blog using my pseudonym Wilma. It was over lunch with Jim Laube from Wine Spectator that the idea started percolating. I remember it vividly. We met so he could taste new releases while I shared my vision for Dry Creek Vineyard. With my father in retirement, and the second generation firmly in charge, we had a whole new vision plan - driven by a passionate desire to make wines that would command respect and be recognized among the finest in the region. And I wanted Jim to know! Mass marketed brands were my nemesis and I was hell-bent set on doing everything possible to avoid the homogenous vacuum that seemed to be sucking up so many of my family-owned winery counterparts. As I shared my story, I was able to describe firsthand the trials and tribulations of a lifetime in the wine industry since I had literally grown up in it. With each passing sip, Jim became more and more engrossed. His words of encouragement to share my story via a blog did not go unnoticed. Thank you Jim.

I chose the name Wilma's Wine World because I wanted a separate identity from the winery. I needed a voice to share "an insider's look at the wine country life," a site where I could openly and honestly communicate to readers. I had survived countless family squabbles, distributor consolidations, economic crisis, weather challenges, personnel issues, and just about everything else one will encounter if they stay in this industry long enough. My main source of material was day to day life. Things were a bit crazy then. The Husband was President, I was Vice President, my father was on the retirement sidelines watching with a skeptical eye, and we had a newly established Board of Directors. My son Spencer was a rambunctious pre-teen and daughter Taylor a precocious teenager. I was the poster child for much of the female population: a stressed-out working mom with the Great Recession looming ahead. A decade of hard work had gone into making many qualitative improvements that would re-define the winery including: new vineyards, new wines, new barrels, new equipment, new people, new business practices, new packaging, and new software. Things were more or less in place and it was time to reintroduce the world to the undeniably delicious, exceptionally high quality wines of the NEXT GENERATION! A blog seemed like a good place to begin.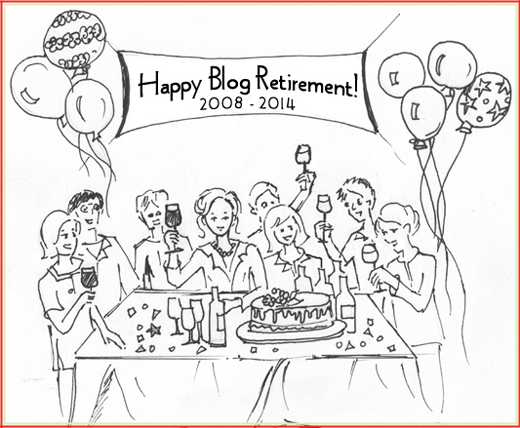 Today, I'm proud that Dry Creek Vineyard is one of the few iconic, truly authentic brands left in the wine business. I'm proud of the unsurpassed quality of our wines and the dedication of our team. I'm proud of all this and much, much more. Our winery is a recognized leader in the industry with a legion of loyal followers. We are a destination spot for tourists and wine lovers alike. And yet, our job is not done. We are constantly raising the bar, striving for the next brass ring. And, we can never stop or rest on our laurels... not even for a split second. That is why Wilma must retire. I just can't "do it all" like I used to think I could.
Two years ago I took over as President. The Husband is at my side offering support and encouragement. Grandpa is happily retired with time for his interests in music, art, travel and philanthropy. My wonderful staff is made up of a group of dynamic, loyal, hard working folks who embrace the family business concept, making important and lasting contributions each and every day. It's a system that works as evidenced by the many great press reviews, endorsements, and customers we have around the world. For all of that, I am grateful.
So with the launch of our new website (a project that's been a year in the making!) it seems timely for Wilma to retire from blogging. Stay tuned... a new "winery blog" will emerge in the coming months. In the meantime, THANK YOU TO ANYONE WHO HAS EVER READ THIS BLOG!
Sincerely Yours,
Kim Stare Wallace (aka Wilma)
welcome!
This is a blog about what it's really like to be in the wine industry...so sit back, take a sip and enjoy!

about me

our wines

our winery

our events

contact me

privacy statement




favorite posts
A Lifetime in Wine
Top 10 Traits of the Successful Family Winery
The Dreaded Family Meeting
Board Meeting Jitters
Is the Future of the Winery in Danger?
The Case of the Overweight Bottle
Wine and Dementia
Wanted: Talented (Normal) Individual for Family Owned Winery
A Sea of Wine
The Heroes of Our Industry
monthly archives
subscribe