Not all it's cracked up to be . . .
I just got home from pouring wine at Boston Wine Expo. BWE is one of the largest wine events in the country with over 500 winery exhibitors, 19,000 attendees, and dozens of wine seminars, cooking demonstrations, etc. It's like Disneyland for the wine lover.
There's something about these mega tastings that seems like great fun to my non-wine industry friends, but let me tell you, this was no cakewalk!
First, you have to deal with the know-it-alls. These are grown ups who feel the need to impress you with their profound wine knowledge. But their ignorance is a dead giveaway the minute they ask, "Do you actually put cherries in your Cabernet?" Then, there's the slick guys trying to impress the trophy date/wife. They're always good for a laugh until they try to grab the bottle off the table and help themselves. And, last is the jerk whose glass is so chunky and wine stained by the time he's reached your table (we won't even talk about the color of his teeth), that it's a wonder he can taste (or remember) anything at all…Ugh.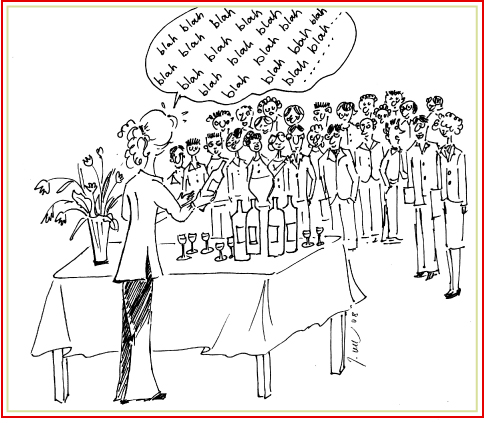 I always have the same experience at these tastings. It usually happens after the third hour. My head begins to spin, my eyes get blurry, and I lose my focus. NO, it's not because I'm imbibing in my own product. It's because I've quite literally said the same thing over and over and over and over and over and over and over and over and over and over and over and over and over and over and over and over again. This is usually followed by a big smile. I actually tried to count the number of times I said the same thing this year, but lost track after 78. Not that I'm complaining. I know full well, that it's a privilege to have the opportunity to introduce people to our wines for the first time. But with over 500 brands in one room, I often wonder if anyone notices or even cares.
Which brings me to an obvious question – do you look for your favorite wineries at these tastings or is it pretty much a free-for-all?
welcome!
This is a blog about what it's really like to be in the wine industry...so sit back, take a sip and enjoy!

about me

our wines

our winery

our events

contact me

privacy statement




favorite posts
A Lifetime in Wine
Top 10 Traits of the Successful Family Winery
The Dreaded Family Meeting
Board Meeting Jitters
Is the Future of the Winery in Danger?
The Case of the Overweight Bottle
Wine and Dementia
Wanted: Talented (Normal) Individual for Family Owned Winery
A Sea of Wine
The Heroes of Our Industry
monthly archives
subscribe