A Legacy Moves On
By now you've probably heard about Robert Mondavi's death. His passing has been covered widely in wine publications and industry journals as well as national radio and television. His accomplishments were legendary and his foresight paved the way for an entire industry, the fine wine industry.
For me, his death is more symbolic. Robert Mon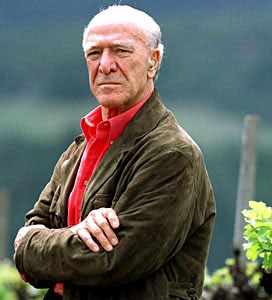 davi and others who've passed before him (Rodney Strong, Hans Kornel, Joe Heitz) were the inspiration of the next generation of vintners, the David Stare's of the world. I can remember sitting around the dinner table and hearing my parents talk about Mr. Mondavi. They spoke of him with great respect and admiration. They too wanted to share in the dream of producing world class wines from a largely unheard of place in the world. (Remember - back then France was the dominant player and few if any other regions rivaled French wines in terms of quality or quantity.) My folks even named their debut release, a mere 350 cases of 1972 Sauvignon Blanc, Fumé Blanc, upon seeing the success Mr. Mondavi was having with his newly coined term.
It saddens me to think about the tragic twists the Mondavi family took in the last decade or so. There are poignant lessons for families such as ours…the result of rapid expansion, loss of control, going public, spreading oneself too thin, dilution of quality, and family dysfunction. I understand there were huge rifts between father and children and my fondest hope would be that the family had heeled these wounds prior to Mr. Mondavi's passing. Otherwise, what good is the creation of a legacy without the love and harmony of one's family?
About 10 years ago I had my only Mondavi encounter. Not with Bob, but rather with son Michael. I had just developed our Endeavour Cabernet label. We were very excited about coming up with the name Endeavour (Captain Cook's ship that sailed around Cape Horn) until I found out that Mondavi Winery was also using the name for a holding company they owned. Without their blessing, I couldn't trademark the name, nor would it have been wise to continue to use it. So, I wrote a letter and sent it to the winery. About 2 weeks later I received a call on my cell phone. I was in my skivvies in a dressing room at Banana Republic…go figure. Michael had called to say it would be just fine to use the name and by the way, could he taste a bottle! I was very happy and relieved. He sent a lovely handwritten note after, which I still have today.
I truly wish the remaining heirs much success, health and happiness. May their father's hopes and dreams continue to live on.
welcome!
This is a blog about what it's really like to be in the wine industry...so sit back, take a sip and enjoy!

about me

our wines

our winery

our events

contact me

privacy statement




favorite posts
A Lifetime in Wine
Top 10 Traits of the Successful Family Winery
The Dreaded Family Meeting
Board Meeting Jitters
Is the Future of the Winery in Danger?
The Case of the Overweight Bottle
Wine and Dementia
Wanted: Talented (Normal) Individual for Family Owned Winery
A Sea of Wine
The Heroes of Our Industry
monthly archives
subscribe