What the *$#&!??
I was out of town earlier this week and got the shock of a lifetime when I returned. Plastered on the window outside the entrance door to the winery is a sign saying PUBLIC NOTICE OF APPLICATION FOR OW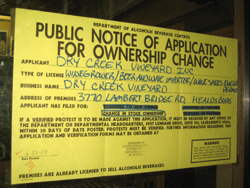 NERSHIP CHANGE. It's one of those mandatory signs that you often see outside new bars, restaurants, etc., except this one is yellow.
Funny thing is…we aren't for sale!
A couple of thoughts popped into my head.
The Husband has pulled a fast one on me and is headed to the Bahamas.
My father got sick of retiring on a little bit of money and has decided he wants to retire on a LOT of money.
My staff is trying to see how many grey hairs I can grow in one day.
After further investigation, I've learned that this is a classic case of bureaucracy in action. The California ABC (Department of Alcohol Beverage Control) requires such notices any time there's been a change in corporate structure. Something about our development of a board of directors and the estate planning that my father has done, sent up a red flag that resulted in this obnoxious yellow sign. I simply can not believe it. I can just hear the rumors around the valley now. And, it needs to remain in place for 30 days!
So, if you happen to come by, don't be alarmed. It's just governmental red tape at its best. Definitely something to consider though if you're thinking about changing your winery's structure or beginning the estate planning process.
welcome!
This is a blog about what it's really like to be in the wine industry...so sit back, take a sip and enjoy!

about me

our wines

our winery

our events

contact me

privacy statement




favorite posts
A Lifetime in Wine
Top 10 Traits of the Successful Family Winery
The Dreaded Family Meeting
Board Meeting Jitters
Is the Future of the Winery in Danger?
The Case of the Overweight Bottle
Wine and Dementia
Wanted: Talented (Normal) Individual for Family Owned Winery
A Sea of Wine
The Heroes of Our Industry
monthly archives
subscribe