Shrinking Wine Bottles
Did you hear the recent news? Cereal makers such as General Mills, Post, and Quaker are shrinking their packaging to soften the blow on higher prices. So even though they're putting less Wheaties in each box, we're supposed to feel good about our purchases and not resent the increased costs.
I wonder if this is something we could get away with? Shrink our bottles to make wine drinkers think they're getting just as much for the same amount of money. I'm just kidding of course, but it did get me to thinking about the profitability issue for smaller wineries.
Whenever we talk about pricing around here, hairs are raised,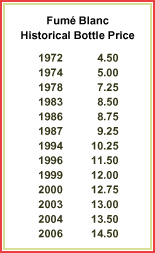 hackles go up, and blood pressure becomes elevated. We have got to be the last winery in California to finally take some price increases. These have been done very modestly and very very slowly (see chart). To be truthful, it is costing us way more to produce the quality of wines we are making today than in the past. Hundred year old vines, fancy French oak barrels, and pedigreed winemaking teams don't come cheap. But, we know we need to wow people with our quality in order to keep them excited. If we don't, there are another 987 wineries just down the road all vying for a piece of the action. Thankfully, our strategy is working. We're selling out of everything we make. We're getting great reviews and tons of accolades. And the tasting room is filled with folks from all walks of life who want to taste the new releases. But, somehow we need to become more profitable so we don't end up in the headlines like Chateau Montelena, Stags Leap and Rosenblum Cellars.
It's a baffling question and something we think about quite often.
Suggestions anyone?
welcome!
This is a blog about what it's really like to be in the wine industry...so sit back, take a sip and enjoy!

about me

our wines

our winery

our events

contact me

privacy statement




favorite posts
A Lifetime in Wine
Top 10 Traits of the Successful Family Winery
The Dreaded Family Meeting
Board Meeting Jitters
Is the Future of the Winery in Danger?
The Case of the Overweight Bottle
Wine and Dementia
Wanted: Talented (Normal) Individual for Family Owned Winery
A Sea of Wine
The Heroes of Our Industry
monthly archives
subscribe