Who Let the Dog Out?
My wine consumption has gone up quite dramatically lately. It's not due to the usual reasons such as excessive entertaining, too much business travel or pure stress. No, it's much better than that. We have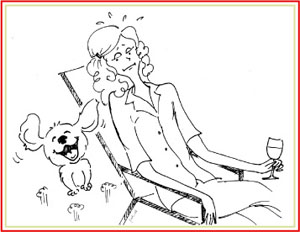 a new puppy! Yep, that's right. The family that doesn't have time to sit and smell the roses, let alone get through the inbox, emails, and voicemails, has added another dimension to the laundry list of responsibilities.
I've never raised a puppy. Kids yes, husband yes, but puppy no. The first few days were pure hell. Round the clock care for a squirming, licking, jumping creature is not exactly a cakewalk for me. I kept wondering where The Husband was in all of this. He and our 10-year-old son were the ones who talked me into this, yet where were they when I needed them??? For a control freak like me, having an unpredictable creature that can't communicate worth beans is a challenge. Thankfully, we had planned to take some time off to finish some projects around the house before our big wine club party this Saturday. But, that (time to get things done!) proved much harder than I anticipated.
I needed professional help. So I immediately made an appointment with the vet. I came armed with a dozen questions all centered around one theme: when will she (Holly) stop pooping all over the place?? The vet looked at me and rather sarcastically said, "well, you already have the answer." I looked at him blankly. "What do you mean?" He asked if I had any kids. My 10-year-old was beside me, so I wasn't sure what he was getting at. He continued. "Did you know the exact hour your son would be potty trained? Or, the date and time he would start sleeping through the night? Of course not. So you see, you already have the answer."
Great I thought, just great.
So if you happen to be coming to our Wild Boar Pig Out Party, please forgive the holes in the yard, the chewed up legs on our porch furniture and the generally disheveled look of your winery hosts. We're on a 3-hour potty rotation with our four-legged friend, and just like with a newborn, everything else is taking a back seat.
At least the wines are in good shape!
welcome!
This is a blog about what it's really like to be in the wine industry...so sit back, take a sip and enjoy!

about me

our wines

our winery

our events

contact me

privacy statement




favorite posts
A Lifetime in Wine
Top 10 Traits of the Successful Family Winery
The Dreaded Family Meeting
Board Meeting Jitters
Is the Future of the Winery in Danger?
The Case of the Overweight Bottle
Wine and Dementia
Wanted: Talented (Normal) Individual for Family Owned Winery
A Sea of Wine
The Heroes of Our Industry
monthly archives
subscribe