Will We Make It To The Third Generation?
I'm often asked if my children will take over the winery someday. I usually don't know how to respond. On the one hand, I know how good it would sound to simply reply "Yes, of course. Junior already has a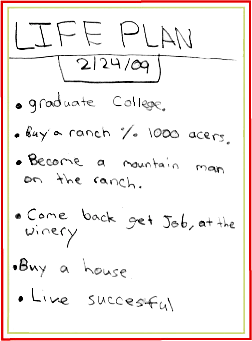 developed palate and is planning to go to UC Davis to study enology and viticulture." But then again, I've never been very good at stretching the truth so I usually just nod and say "I dunno." Because I just don't know. Neither of our kids have much of an interest in winemaking, vineyards, wine sales or marketing, or frankly anything else that is remotely related to this industry. In fact, my hunch is that they actually see the lifestyle and demands of running a winery as a boring waste of time.

Until now. My 11-year-old son recently shared his latest plan with me. He has gone through many phases in his short life from wanting to be a sportscaster to a professional fisherman. But now there's evidence that he might actually want to work at the winery someday. This news is simply too good not to share! The Grand POO BAH himself (my father) ought to be thrilled, as am I. Of course, a lot can happen in the next 10-15 years. But I now have a glimmer of hope and actual evidence that there might be a third generation interested in carrying on the torch at Dry Creek Vineyard.
welcome!
This is a blog about what it's really like to be in the wine industry...so sit back, take a sip and enjoy!

about me

our wines

our winery

our events

contact me

privacy statement




favorite posts
A Lifetime in Wine
Top 10 Traits of the Successful Family Winery
The Dreaded Family Meeting
Board Meeting Jitters
Is the Future of the Winery in Danger?
The Case of the Overweight Bottle
Wine and Dementia
Wanted: Talented (Normal) Individual for Family Owned Winery
A Sea of Wine
The Heroes of Our Industry
monthly archives
subscribe