Life as a Cover Girl
OH MY GOD. It finally happened. After years upon years of hoping, wishing and praying, we have finally made the cover of the glossy mega powerful wine magazine, Wine Spectator. This is just too good to be true. It's beyond cool. Past incredible. Close to nirvana. And frankly, it could be life changing.
Here is an excerpt from their April 1 issue:
"After years of reporting on what's new in the world of wine, we've amassed a comprehensive list of tried and true wineries that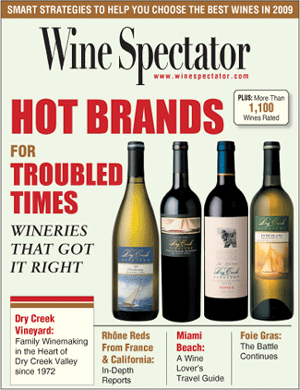 are a "must have" for today's troubled times. These are brands with familiar names and iconic reputations that have consistently produced wines that surpass the customer's expectations. In some cases they are privately owned, and in some cases they are corporate entities. For this first ever search, our editors limited their criteria to three primary objectives: overall quality, value and consistency or longevity in the marketplace. Knowing that just about anyone can make a stellar wine once or twice, we looked for companies who have been making remarkable wines for at least ten years. We then staged a massive tasting to rank over 500 different wines. One brand has emerged as this year's Must Have Brand for 2009. Read on for a complete list of contenders in this first ever report."
April Fools!!!
Hey, it doesn't hurt to dream, does it?
welcome!
This is a blog about what it's really like to be in the wine industry...so sit back, take a sip and enjoy!

about me

our wines

our winery

our events

contact me

privacy statement




favorite posts
A Lifetime in Wine
Top 10 Traits of the Successful Family Winery
The Dreaded Family Meeting
Board Meeting Jitters
Is the Future of the Winery in Danger?
The Case of the Overweight Bottle
Wine and Dementia
Wanted: Talented (Normal) Individual for Family Owned Winery
A Sea of Wine
The Heroes of Our Industry
monthly archives
subscribe