The Birth of a New Vineyard
Spring is in the air, and it has never felt better. Having just returned from Southern California where the air is generally a dull beige color no matter what time of day, I am especially grateful to see bright blue skies and feel our warm sunny sunshine.
Springtime also means it's planting season. This is particul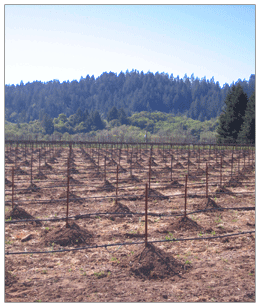 arly exciting as we've finally begun the replanting process of the vineyard directly in front of the winery. Years ago, (I'm talking 1974) this small parcel at the corner of Dry Creek Rd. and Lambert Bridge Rd., was planted to Cabernet Sauvignon using homemade bench grafts that my father and his buddy Tom Dehlinger (of Dehlinger Winery) made. It was later T-budded to Chardonnay during the planting boom of the 1980s. When we finally realized that our Chardonnay grapes would be better suited to the cooler Russian River Valley area, we tore out those Chardonnay vines and let the earth remain fallow to naturally regenerate the soil for future planting- an important step in the practice of sustainable farming. Five years have passed and we are now in the early stages of developing one of our most exciting vineyards yet!
As avid Zinfandel lovers, we're creating an experimental Zinfandel block using 4 different clonal selections. This vineyard will be head pruned with no trellis system, much like the historic Zinfandel vines planted in the days of horse and plow. Just recently, we completed the important first step of planting the rootstock, which in this case is St. George-a phylloxera resistant rootstock that has been used since the late 1800s. It doesn't look like much, just small lumps rising up from the ground. As soon as the roots take hold, (probably late summer or early fall) we'll then go through the arduous process of grafting in budwood from the four different clonal selections. This will essentially complete the planting process. Then it's a matter of patiently waiting the 3-4 years for our first crop.
Eventually our hope is to be able to make several different wines from this experimental vineyard. We have no idea what to expect, but who knows, one of them could be the next great cult wine of Dry Creek Valley!
welcome!
This is a blog about what it's really like to be in the wine industry...so sit back, take a sip and enjoy!

about me

our wines

our winery

our events

contact me

privacy statement




favorite posts
A Lifetime in Wine
Top 10 Traits of the Successful Family Winery
The Dreaded Family Meeting
Board Meeting Jitters
Is the Future of the Winery in Danger?
The Case of the Overweight Bottle
Wine and Dementia
Wanted: Talented (Normal) Individual for Family Owned Winery
A Sea of Wine
The Heroes of Our Industry
monthly archives
subscribe