Distressed Travelers Unite!
I'm generally not a complainer. Really, I'm not. But I recently had a travel experience so hellacious that I can't keep quiet. It was enough to make me give up air travel forever. Clearly, I need to get this out of my system as walking across America to market Dry Creek wines is not an option.

My journey started on a flight from San Francisco to JFK. I had a connecting flight to Portland, Maine, my final destination. I should have known things were not in my favor when we shoved off an hour and a half late and the flight attendants announced there was no potable water on board.

The long flight to NY was then delayed by an hour of circling the airport due to "bad weather." Another hour and half was spent sitting on the tarmac. This was blamed on our gate not being ready. Never mind that everywhere we looked, there were open gates. When we finally deplaned, we were told all flights to Portland, Maine had been cancelled for the night. Ok, I guess you can't argue with Mother Nature but it seemed odd that the sky was clear and the ground dry.

Hundreds of weary travelers proceeded to line up in the Distressed Traveler line. I was not aware of this term. Apparently pr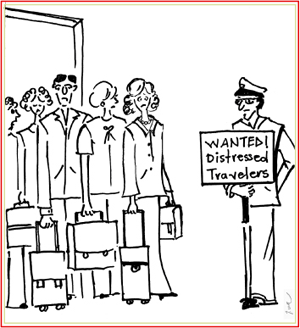 oblems occur so often that there's even have a special rate with Ramada Hotels under the acronym Distressed Traveler. After four hours of standing in line, I was told that the next available flight to Portland wasn't until Sunday, four days later.
What was most frustrating about this experience was the lack of customer service displayed by the airline. They were dreadfully understaffed, and the few staff available were complacent and indifferent. I know it's hard to find employees in the middle of the night, but that's when you call the boss and say "help!" If he or she is not available, someone else needs to simply take charge. As you can guess, this did not happen. Not once, did someone address the expanding group of stranded travelers. No apologies, no compassion, no concern. We finally got rebooked on a flight to Boston which didn't leave until late the following day.
When I arrived, my bags were lost.
It wasn't the standstill on the tarmac. It wasn't the delayed landing. It wasn't the cancelled flight. It wasn't the lost bags. What peeved me the most was the complete lack of customer care. As paying customers who had faced a multitude of disappointments, we needed a little compassion and TLC. Instead, we were greeted with indifference, incompetence, and absolutely no consolation (hotel vouchers, etc.) for our misfortune.
So, I'm joining thousands of other Americans in support of a Passenger's Bill of Rights for air travel. Kate Hanni, founder of the group, www.flyersrights.org has been tirelessly pushing for legislation since her dreadful 13 hour experience in 2006. (For you wine country watchers, Kate is master sommelier Tim Hanni's wife in Napa.) This week, the Coalition for an Airline Passenger's Bill of Rights will be advocating to the top dog himself, President Obama, as he vacations on Martha's Vineyard.
While it's doubtful that Air Force One encounters the same problems as the rest of us, I hope the President will support this legislation. It would make life just a little kinder and gentler for us all.
Either that, or they better start serving some decent wines on board!
welcome!
This is a blog about what it's really like to be in the wine industry...so sit back, take a sip and enjoy!

about me

our wines

our winery

our events

contact me

privacy statement




favorite posts
A Lifetime in Wine
Top 10 Traits of the Successful Family Winery
The Dreaded Family Meeting
Board Meeting Jitters
Is the Future of the Winery in Danger?
The Case of the Overweight Bottle
Wine and Dementia
Wanted: Talented (Normal) Individual for Family Owned Winery
A Sea of Wine
The Heroes of Our Industry
monthly archives
subscribe