Schizophrenic Harvest
It's been a whirlwind. As if business isn't stressful enough, the schizophrenic weather conditions have added a new dimension. It's hard to know what to expect when one day it's 80 degrees and the next day it's raining cats and dogs. Thankfully, we had nearly all our vineyards, save a bit of Cabernet Franc and a few tons of Cabernet Sauvignon picked before the pounding rains hit. Frankly it's a vintage that makes me grateful for the diversity in our wine program. For example, thinner skinned varieties like Zinfandel, Sauvignon Blanc and Chardonnay are more susceptible to mold and mildew. But they are also harvested earlier in the season so we didn't have to worry about them. And, with varieties like Petite Sirah, Petit Verdot and Malbec to fill in the blends, we're optimistic about the vintage as long as the winemaker doesn't go crazy! But, like everything else about 2009, nothing has been normal.
That goes for our tomato crop too. This year, it wasn't un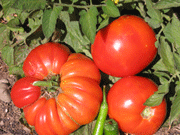 til early August that we really had a crop. Things really picked up in September, and now I don't know what to do with the bloody things. I don't want to say I'm sick of them as I know it won't be long before I'm stuck with the dreadful mealy supermarket variety. But I must admit I'm getting pretty sick of Caprese salad (sliced tomatoes, fresh mozzarella and basil). In talking to a couple of the cellar guys, it appe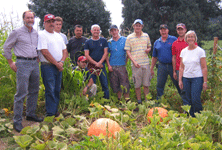 ars they are too. We had a killer employee garden this year, and everyone is trying to figure out what to do with the last veggies of the season. So last night I pulled out a favorite old recipe. It's called Tomato Pudding. Lou and Susan Preston from Preston Vineyards gave it to me years ago. It's a foolproof assemblage of a few ingredients that I almost always have hanging around. And, it makes a hearty side dish for a nice roast, grilled meats or other main dishes. Don't get too anal about putting it all together, you can't mess it up!
Tomato Pudding
8-10 fresh tomatoes, coarsely chopped (if you have the time, you can skin the tomatoes first by dunking them in boiling water and waiting until the skin cracks)
1 large chopped onion
Butter
Sugar
French Bread, sliced & buttered

In a large saucepan or pot, melt ¼ cup butter. Add chopped onions and sauté until translucent. Add tomatoes, cooking down for 30-45 minutes. Add a few teaspoons of sugar rather sparingly. Add slices of buttered French bread (stale is better), pushing them down so they are covered by the tomato mixture. Reduce heat, cover and cook by steaming until light and puffy, approx. 30 minutes. Salt and pepper to taste. (Note: this dish is always better the second day.)
welcome!
This is a blog about what it's really like to be in the wine industry...so sit back, take a sip and enjoy!

about me

our wines

our winery

our events

contact me

privacy statement




favorite posts
A Lifetime in Wine
Top 10 Traits of the Successful Family Winery
The Dreaded Family Meeting
Board Meeting Jitters
Is the Future of the Winery in Danger?
The Case of the Overweight Bottle
Wine and Dementia
Wanted: Talented (Normal) Individual for Family Owned Winery
A Sea of Wine
The Heroes of Our Industry
monthly archives
subscribe