The Event of the Season
Ahh, retail therapy.........................
Who doesn't like a good old fashioned sale? I know I do. The thrill of the hunt, the excitement of finding a new treasure or two and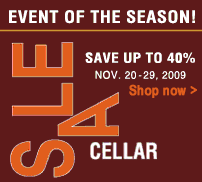 the satisfaction of SAVINGS galore. Well if you like a good sale too, have we got a doozy for you! Starting November 20 and running through November 29, we're offering huge discounts on a variety of wines. And, to top it off, shipping is 50% off too. Check it out at www.drycreekvineyard.com.
Better yet, come by our cellar on Sat. November 28th for our annual Holiday Celebration and see for yourself what all the fuss is about. Join us for some holiday cheer as you avoid the hassles and headaches of the mall. (There's a reason Black Friday is black!) Deck the halls and toast the season in a relaxed stress free environment, while sipping your favorite glass of vino and noshing on yummy nibbles.
Now that's retail therapy.
welcome!
This is a blog about what it's really like to be in the wine industry...so sit back, take a sip and enjoy!

about me

our wines

our winery

our events

contact me

privacy statement




favorite posts
A Lifetime in Wine
Top 10 Traits of the Successful Family Winery
The Dreaded Family Meeting
Board Meeting Jitters
Is the Future of the Winery in Danger?
The Case of the Overweight Bottle
Wine and Dementia
Wanted: Talented (Normal) Individual for Family Owned Winery
A Sea of Wine
The Heroes of Our Industry
monthly archives
subscribe