IT Gal on a Mission...
Other than an occasional glass of wine at a restaurant, I had absolutely no knowledge or experience with wine when I came to Dry Creek Vineyard, back in 1994. After a long career in business management, I had gone back to school to study computer/web programming, and related subjects. Much to my surprise, I found that I loved the structure and organization of the computer world, which I came to find, was the antithesis of the ethereal world of wine.
Back in '94, DCV had an AS400 monster server, a few terminals, and one MAC used by the PR gal. There were no computers or voice mail. When I started, the winery needed serious assistance with data entry and the running of their 800-member wine club. The difficulties running the wine club had a great deal to do with lack of systems and software to get the job done. With my newly acquired computer skills, I set about to develop systems to efficiently manage the club. Kim and her staff still did much of the work by hand! After years of running the club via queries on the AS400, I decided to write wine club software in 1996, and purchased the winery's first computer to run the software. By then I was managing the wine club and thrown headlong into the world of wine – sort of a trial by fire, learn as you go situation.
Eventually, I did learn about wine, and the wine club grew exponentially. Meanwhile, the winery itself was growing and changing with the influence of the world of technology, including the purchase of computers and software. To my delight, they now needed someone to take care of the computers, software, web site, and all things technical. While I learned a lot and enjoyed running the wine club and the many relationships I developed with its members, it was NOT what I had re-trained to do. I retrained to move away from business management! So, when Don and Kim came to me to ask if I would take over IT services here, I was thrilled.
There were so many things I wanted to do to bring the winery into the new millennium, but little did I know it would be an uphill battle… As a venerable family winery, many here (principals included) pre-dated the computer age, while technology was growing by leaps and bounds. The saying, "be careful what you ask for" kept running through my head. Convincing folks that technology was their friend was not an easy sell! Some of the things I wanted to do took years of lobbying. I still remember the look on Kim's face when I tried to explain why we needed software to run the wine club…
The good news is that I've had the opportunity to do ground-breaking stuff here at the winery: write wine club software before any existed, develop a system of email communications with our distributors and consumers before there were email blasting services/software, build a comprehensive web site and develop a distributor sectio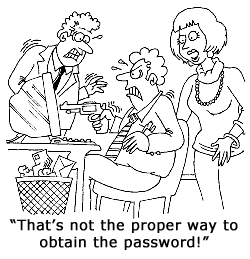 n with all the materials they could ever need at their fingertips, develop an online store, and incorporate a FAQ and customer reviews functionality on our web site and in our online store. And, then, with the support of our PR director, we were able to convince Kim (still kicking and screaming) to do this blog. Now, we even have a Facebook page, YouTube channel, and Twitter account.
Bad news is that people's eyes still glaze over when I try to explain how or why something works. And routinely I get calls about strange things their computer is doing, followed by an explanation, "I didn't do anything… It just started doing that." OR, "An error message popped up on my screen…. I don't remember what it said." OR, "My computer screen is upside down… I don't know how it happened." However, I'm on a new mission: in-house computer classes. My goal is to bring everyone here into the twenty-first century!! So, Dry Creek Vineyard staff, be prepared to bond with your computer… a new day is dawning here at DCV.
Lynda Abbott, Director of IT Services
welcome!
This is a blog about what it's really like to be in the wine industry...so sit back, take a sip and enjoy!

about me

our wines

our winery

our events

contact me

privacy statement




favorite posts
A Lifetime in Wine
Top 10 Traits of the Successful Family Winery
The Dreaded Family Meeting
Board Meeting Jitters
Is the Future of the Winery in Danger?
The Case of the Overweight Bottle
Wine and Dementia
Wanted: Talented (Normal) Individual for Family Owned Winery
A Sea of Wine
The Heroes of Our Industry
monthly archives
subscribe