Food with Eyes!
There's something you should know about the wine industry. If you enter this business, you have to be willing to eat some really weird food. This can happen at the most inopportune times, like when you're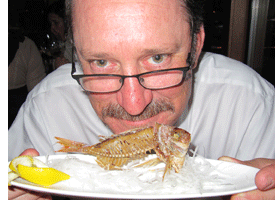 the featured speaker at a winemaker's dinner. Or when you've spent oodles of time and effort trying to get a wine list placement. Or my favorite, when you allow the wine writer to pick the restaurant and you end up deep in the heart of Chinatown.

I guess by some people's standards, I'm finicky. While I absolutely LOVE to eat, I generally prefer my meals to be recognizable, especially if the item was alive prior to being served to me. The husband on the other hand, will eat just about anything and loves watching the television show "Bizarre Foods." Thankfully, I have a cast iron skillet for a stomach so rarely does any one ingredient or dish disagree with me. But, I am a bit squeamish-especially if the meal includes something with eyes. Call me wimpy, but I just don't like my plate to stare back at me!

What's a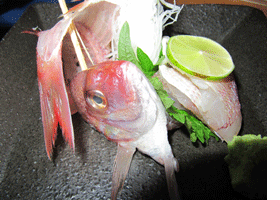 winery owner to do? With so much of wine sales and marketing centered around food, it's inevitable that you'll be faced with this dilemma at some point in your career. Pretending you like something when in fact you are about to gag is a learned skill, trust me. And you can't afford to offend the chef by politely saying "no thank you."
This is top of mind as I leave for New York, one of my favorite cities, but a culinary minefield for anyone even slightly timid. I still remember an evening about 10 years ago. I was in town to launch our Endeavour Cabernet to a group of wine writers. Normally I would handle the dinner arrangements, but this group asked if they could pick the location. All they asked was if I was adventurous. That should have been my first clue. We ended up at a place in Chinatown
unlike any Chinese restaurant I'd ever been to. The gooey duck, chicken toes and fish heads paired seamlessly with the Endeavour Cabernet, which I found myself drinking in larger than normal quantities that evening.
Earlier this week, I had a similar experience at Sushi Ran—a fantastic sushi restaurant that has an amazing wine list. We just got our Heritage Zin on the list and wanted to stop in to say thanks. Thankfully, my palate is expanding and I no longer tremble with fear when I see a stray tentacle or eyeball on my plate. But if you're planning to venture into the wine biz, do yourself a favor and start expanding your food repertoire early. It will pay off later on, I promise!
welcome!
This is a blog about what it's really like to be in the wine industry...so sit back, take a sip and enjoy!

about me

our wines

our winery

our events

contact me

privacy statement




favorite posts
A Lifetime in Wine
Top 10 Traits of the Successful Family Winery
The Dreaded Family Meeting
Board Meeting Jitters
Is the Future of the Winery in Danger?
The Case of the Overweight Bottle
Wine and Dementia
Wanted: Talented (Normal) Individual for Family Owned Winery
A Sea of Wine
The Heroes of Our Industry
monthly archives
subscribe